Ruby Yates Idora Neighborhood Resident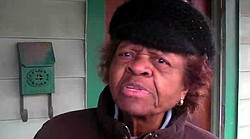 Video
Ruby Yates, longtime Idora neighborhood resident, talks about the changes she's seen.
Neighbors, groups work vigilantly to renew South Side neighborhood
By CHRISTINE KELING and COURTNEY DENEN
SPECIAL TO THE VINDICATOR
YOUNGSTOWN — Large, old trees line a winding road on Youngstown's South Side near Mill Creek Park and Glenwood Avenue. Majestic homes exude the past glory of the Idora neighborhood.
Just one block away, abandoned, windowless houses with dangling gutters and peeling paint intermingle with modest homes and their manicured lawns.
"No Dumping" signs scribbled on big plywood sheets stand side by side with holiday decorations. Yellow flags mark the neighborhood's derelict dwellings that are set for demolition.
Ruby Yates, 85, has lived in the neighborhood since 1971 and remembers when she moved into her Brentwood Avenue home.
"It was the most peaceful street to live on," Yates said. She could give her three kids a few dollars and send them to the corner custard shop on Glenwood or to Idora Amusement Park on Parkview Avenue.
"I never worried about the kids, never worried," Yates said.
Things changed in 38 years — for Yates and Youngstown.
But as one of the city's dwindling number of keepsake neighborhoods, an effort is afoot to restore Idora.
For the past two years, Idora residents have been working with Youngstown city officials and the Mahoning Valley Organizing Collaborative to redevelop their neighborhood. The area has been named the pilot program for the newly formed Youngstown Neighborhood Development Corp.
On "Black Monday" in 1977, Youngstown Sheet & Tube closed a large portion of its operations in the city. By the mid-1980s two more steel mills left Youngstown, an accidental fire devastated the amusement park, and the downward spiral of the neighborhood began. Long gone are Yates' favorite custard store and the Sparkle Market where she loved to shop.
"The neighborhood got so terrible, so awful," Yates said. "The neighbor who lived next door, her house got shot up, and we stopped sitting on the porch."
When Yates went out of town in 2005 to visit her children, she had someone check on her house every day. Still, her house was burglarized.
"I should have left my car in the driveway, let them think someone was home," Yates said. She had parked her car at a friend's house.
In 2007, the Youngstown Planning Department and students from the Ohio State University engaged area residents to help create a neighborhood development plan that is being used today. The plan aims to reclaim and rehabilitate vacant properties, preserve existing homes, increase neighborhood pride, create a commercial corridor on Glenwood and ensure that the neighborhood is a safe place to live.
Little by little, the redevelopment is starting to work. Residents have joined to form the Idora Neighborhood Association, which has grown to more than 240 members. The INA works with the city and MVOC, and decaying houses are coming down. Residents are maintaining vacant properties and refurbishing rusted posts and fire hydrants. They are establishing youth groups. The Idora Wildcats 4-H youth program participated for the first time this year at the Canfield Fair and received an award for its display. Block parties are bringing neighbors closer.
"Now neighbors on opposite ends of the street know each other and are talking," said Ian Beniston, policy director at MVOC. "It seems to feel as if the neighborhood is getting its future back."
Yates spends her free time working as a youth leader for her church and doesn't belong to the INA, but she notices the changes.
"The neighborhood is getting a little better," Yates said. "The house where someone got killed is gone, and so are a lot of the crack houses."
James London is a three-year resident of Idora and head of the neighborhood association. He said that residents are realizing they have power and that the city and neighborhood are theirs.
INA members had public meetings with area businesses and city officials to address the concerns of blight and crime on Glenwood. Some business owners responded by fixing, painting and residing their buildings.
Owners who did nothing were targeted by the INA. They prodded city officials to enforce code violations. Residents voted to revoke the liquor license of the Party Pantry, a corner store where neighbors felt crime was an issue.
The proactive approach by residents has meant less crime.
According to Youngstown Police Department incident reports, burglaries in the neighborhood have dropped 4 percent, and robberies were down 42 percent in 2008 from 2007. Overall, there were 232 fewer incident calls to the department in 2008 (1,738) than in 2007 (1,970). With two months left in 2009, it looks as if there will be even fewer calls this year.
Yates said she wishes that police would be more aggressive.
"You can call the police and by the time they get here, whatever was going to happen, already happened," Yates said.
London agrees the neighborhood needs a stronger police presence, but he said the INA can do things to help.
INA hopes to address loitering at corner stores by creating a children's garden surrounded by a fence that will feature area youth's artwork, so there will be a better place to hang out.
A streetlight survey was scheduled to start last month to learn which areas of the neighborhood need new or replacement lights.
London also said the INA is working on replacing block-watch signs with new signs that capture the neighborhood's mission. The new sign will not have the block watch warning; instead it will welcome visitors to the historical neighborhood, highlight that residents are working together for a prosperous community and include the neighborhood association's Web address. The city is paying for the blank signs, and the INA created the sticker that will go on them. London plans to hang the signs to save money.
Presley Gillespie, director of YNDC, wants more work done in the Idora neighborhood. "Our goal is to transform vulnerable, undervalued and transitional neighborhoods to healthy neighborhoods of choice," Gillespie said.
The YNDC is a newly formed not-for-profit organization, designed to work in conjunction with the MVOC to address housing related issues, such as vacant lot management, foreclosure prevention training and community greening programs in Youngstown. It has received $1.5 million from the Wean Foundation, the city through community development block grants and national stabilization programs, and various other supporters. It will strategically pick neighborhoods to maximize impact.
"We want neighbors who are willing to invest their time, their energy, their resources themselves, not just waiting for someone to come in and clean up their neighborhood," Gillespie said.
He said the Idora neighborhood is the perfect candidate for the first project.
"Those residents are very involved and active," Gillespie said.
One focus for the YNDC will be in creating a healthy neighborhood in Idora where fresh fruit and vegetables are readily available. The YNDC plans to use land, which is not viable for sustaining new homes, to create community gardens or small pocket farms that area residents can use. It is considering the option of securing funding for existing store transformations or building new stores for the community. The plan should be ready in spring.
"Right now, you can't walk down the street and get the types of things we know we should be eating," Gillespie said.
Yates is excited about the progress made so far and the YNDC's plans for the neighborhood. The block parties remind her of how children and families came together and relied on each other in the past. She looks forward to the proposed community garden because she hasn't planted one since her husband died in 1991.
"I would love to see that Sparkle Market come back again," Yates laughs, "and I think I might sit on my porch again; well maybe, I'd have to think about that."