Mother, daughter are laid to rest
Wilniece and Jabrajasia Green Funeral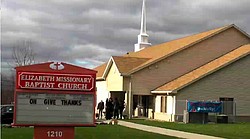 Video
Funeral services forWilniece and Jabrajasia Green were held Nov. 30, 2009 in Youngstown Oh.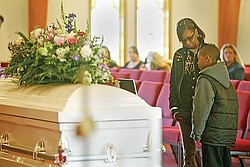 Photo
QUIET MOMENT: Rasheedah Hudson of Youngstown and her son, Charles, 4, pause for quiet reflection at the coffins of Wilneice Green and her daughter, Ja'Brayasia, during the funeral service Monday. Pastor Sylvia Jennings of Oak Baptist Church, Youngstown, where the Greens attended, offered the eulogy.

Photo
Mourners embrace family members of Wilneice Green, and her daughter, Ja'Brayasia (also written as Ja-Brajasia), during a funeral service Monday at Elizabeth Missionary Baptist Church in Youngstown. About 300 attended the service. The Greens were murdered Nov. 15 in their home in Liberty Township.
Liberty Township has adopted the family of the homicide victims, Wilneice and Ja'Brayasia (also spelled as Ja-Brajasia) Green, and is collecting food for Christmas.
Donations may be dropped off at the township administration building, 1315 Church Hill-Hubbard Road.
Christmas gifts for girls, 12 years old and 10 months, and boys, 8 and 2 years old, also are being sought.
Monetary donations, which may be made to the Green family account, are being accepted at PNC bank on Gypsy Lane. Funds will go to funeral expenses.
Source: Liberty Township
About 300 mourners attended the funeral service for Wilneice and Ja'Brayasia Green.
YOUNGSTOWN — Some mourners at a funeral service wear their hearts on the sleeves. A cousin of the Green family, Calvin Hill of Niles, wore his heart all over his shirt. He had a gray jersey airbrushed in red and black with the names of his deceased relatives, Wilneice and Ja'Brayasia Green.
Hill was among some 300 people who attended the two-hour funeral service Monday at Elizabeth Missionary Baptist Church, 1210 Himrod Ave., for the mother and daughter. They were killed Nov. 15 at their residence, 3022 Northgate Drive in Liberty. The double homicide remains under investigation.
"I had it done to remember both of them," Hill said of his specially detailed shirt. "I did it because I know the love the two of them had for one another."
Hill described the service as "uplifting" and "emotional."
Though rain darkened the skies early Monday, at the time of the 11 a.m. service, sunlight illuminated the pastel colors of the stained-glass windows flanking the sanctuary. Individual portraits of mother and daughter were in front of their white coffins, each adorned with a spray of flowers.
Some mourners filed up the middle aisle, taking time at each coffin to say a silent prayer and reflect on the lives lost to violence.
Pastor J. Dwayne Heard, who led the service, asked mourners to "be strong and of courage." He and other ministers led the extended family into the worship area, where many hugs and words of sympathy were exchanged. The sounds of outright sobs and choked-back grief were a backdrop to the service attended by diverse group of many ages and backgrounds.
Pastor Heard asked mourners to remember that "death is not the end, but the beginning. Our loved ones aren't lost," he said, "It is our hope that they are with the Lord."
Minister Sylvia Jennings, pastor of Oak Baptist Church, 320 Elk St., said she had asked Pastor Heard if the service could be at Elizabeth Baptist because Oak Baptist would not be able to accommodate the crowd. She noted he graciously agreed. The Green family had attended Oak Baptist.
Minister Quintin Buchanan of Oak Baptist asked mourners to "pray for all members of the family and those who were like family."
He noted that "death will come to all of us," and "we should do all we can while we can." Minister Buchanan reminded the group that "tomorrow is not promised."
Pastor R.C. Kitchen, pastor emeritus of Oak Baptist, said the loss of mother and daughter to the church was like "a loss in my family."
Pastor Jennings delivered the eulogy for Wilneice, 28, and 13-year-old Ja'Brayasia Green. (In the funeral service program and recent Tribute in The Vindicator, the teen's name was published as Ja'Brayasia. The police report used Ja-Brajasia, which police said came from her birth certificate.)
Pastor Jennings recalled the day that the Greens died; they had attended church services. "Wil- neice asked me to be their spiritual mother," the pastor said. "The spirit and anointing was powerful ... God knew what was coming."
She also mentioned how Wilneice had a "prayer spot" in her home and was generous in baby-sitting children of friends. "She didn't have the bling, bling, but was rich in the Lord," Pastor Jennings said.
Pastor Jennings also noted that Ja'Brayasia had a "beautiful voice," and she called her a young Beyonc .
Pastor Jennings said she and Wilneice Green spoke for the last time that fateful day at about 8:30 p.m. "I didn't realize it would for the last time," the pastor said.
But Pastor Jennings said all those who came to the service were "blessed" in the memories of Wilneice and her daughter.
Mourners also shared their grief through memories and poems.
Among mourners were Peggy Dolwick, principal at William S. Guy Middle School, where eighth-grader Ja'Brayasia sang in the school choir. "I wanted to come and pay my respects," she said. She noted that the school planned a raising of the victims flag for the deceased student. The principal also said students still had thoughts and messages for the deceased girl posted at school.
Rose Wilkins of Youngstown, a member of Beulah Baptist Church, also "came to pay my respects." She recalled the family had participated in fellowship at her church.
Ashlea Brown of Liberty said she and Ja'Brayasia had been friends since the sixth grade. "She was my friend, and I miss her a lot," she said.
Karissa Johnson and India Phillips, both of Liberty and ninth-graders in school there, said they knew Ja'Brayasia from being involved in a singing and dancing group.
"I wanted to come to show how much I appreciated her," Karissa said. "I'll remember her jokes and how she was funny."
"I wanted to show how much I cared about her," India said. "I'll remember her beautiful voice."