IN FOCUS: Historical house of worship and refuge
PANORAMA: St John's Episcopal Church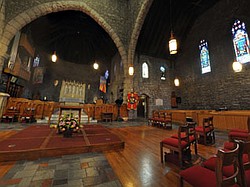 Video
St John's Episcopal Church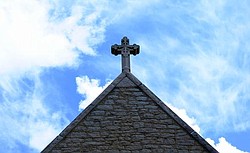 Gallery
St. John's Episcopal Church marks its 150th anniversary this year. The congregation started out quite modestly in 1859 as a Sunday School on Federal Street. It was at the home of one of the sisters of famous American lyricist Stephen Collins Foster.
The members eventually built a church on Wood Street, near where the Nathaniel Jones Federal Courthouse now stands. That church burned down in 1896, and this structure at 323 Wick Ave. was built. Tragically, the original architect, William H. Wood, died shortly after beginning work. The project was then undertaken by Edward L. Ford. The first services at this new building were in May 1898.
The church boasts several distinct design styles — from Norman Gothic, with the fortresslike rough-cut exterior; to the Romanesque touch with the rounded sanctuary and windows. The English-style architecture is denoted by the wooden beams and the two gargoyles poised over the north and south tips of the front entrance.
St. John's is breathtaking inside, housing 35 stained-glass windows designed by the Tiffany Studios of New York, the Connick Studios of Boston and the Willet Stained Glass Studios of Philadelphia. Each window tells a story, whether of a biblical nature or a community one. The windows in the clerestory tells Youngstown's story with depictions of labor management, engineering, ore and coal mining and barges on the river.
The Schlicker organ has no fewer than 3,000 pipes and is used to good measure, especially during St. John's wonderful Christmas and New Year celebrations and at the Boar's Head Festival in the early part of January each year.
Symbolism reigns supreme in this treasure of a church. In the olden days, few people could read. People learned of the Bible through stories and drawings. St. John's Episcopal Church speaks volumes, from its floors to its rafters.