Youngstown aquaculturist says these shrimp are just the beginning
Shrimp Come to the Mahoning Valley

Video
A Poland man wants to turn Youngstown into the Shrimp Capital of Ohio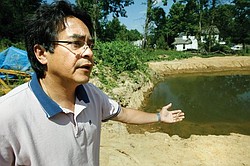 Photo
SHRIMPING: Ron Eiselstein of Youngstown gestures toward the pond on the city's far East Side where he is growing Malaysian prawn, which are freshwater shrimp. In his hand he is holding a shell or skin the prawn leaves behind when it molts.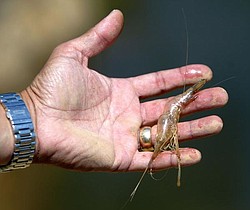 Photo
ADULT PRAWN: Eiselstein shows the skin or shell left by a giant Malaysian prawn when it molted, which he says indicates the large shrimp he plans to harvest this month will be 4 to 5 inches long.
The shrimp grower thinks he will harvest between 200 and 300 pounds of the shrimp.
YOUNGSTOWN — Say you've got a little land that's not filled with pesticides and a creek handy for clean water? Why not dig a pond and grow shrimp — giant Malaysian prawn, to be exact.
That is what Ron Eiselstein is doing on Youngstown's far East Side, and he is ready to find out if his first stab at aquaculture is successful.
On June 19, Eiselstein put 3,000 juvenile shrimp, each about a little less than 1'Ñ2-inch long in a 1'Ñ4-acre pond he created on a 25-acre parcel off Karl Street. Water in the pond ranges from about 4 to 6 feet deep.
The Malaysian prawn is a freshwater shrimp grown primarily in the southern part of the nation because it requires moderate temperatures. In northern Ohio, the growing season is three months, from June to September, limiting growers to one harvest.
Shrimp grow 25 percent better in southern Ohio than in northern Ohio because growth is governed by temperature, said Dr. Laura Tiu, an aquaculture specialist at Ohio State University who has been working with freshwater prawns for 20 years.
Tiu said she is aware of Eiselstein and said for a first-time shrimp grower he is "doing well. I hope he is successful."
This month, Eiselstein will harvest his first crop, which he believes has done well.
He has been nurturing the bottom-feeding shrimp, first with sinking catfish food and then commercially produced shrimp food.
Eiselstein said he sees some of the shrimp at night when he feeds. He said they are about 4 to 5 inches long. Based on those sightings and the size of the molts he has found, he thinks he will harvest between 200 and 300 pounds of shrimp. At the going rate of about $10 a pound, that is $2,000 to $3,000 per harvest, he said.
Shrimp shed their skins periodically, or molt, similarly to snakes, he said.
He said he has high hopes for success.
"We've got 25 acres off Karl and another 25 acres off Thornhill Road. If this works, we'll put in more ponds. We're going to grow the business," he said.
Eiselstein said he started small — a small pond is easier to manage — and is learning as he goes.
He said he is doing it the "Asian way," that is, naturally, and by filling the shrimp pond with water gradually rather than all at once.
"The shrimp are hardy. If you mimic nature, they will do well," he said.
"I'm having fun. The neighbors are great. They have watched out for my equipment. They want to see the vacant land put to use," he said.
The harvesting process is relatively simple.
Eiselstein said he will dig a catch basin near the deepest end of the pond into which the water from the main pond will be drained, carrying with it the shrimp. He said the shrimp are then immediately distributed on-site to customers, or this year, to potential investors.
Though his crop may be doing well, one issue Eiselstein has not resolved is what to do with the water drained out of the pond.
The Ohio Environmental Protection Agency says Eiselstein needs a National Pollution Discharge Elimination System permit to discharge water into East Crab Creek, which runs along the road just below the shrimp pond.
Eiselstein, 49, said there are shrimp ponds all over Ohio without OEPA permits, and that permits are not needed on operations under an acre.
Until the issue is settled, however, he said he will pump the water from the catch basin back into the pond rather than into Crab Creek.
Eiselstein, a principal in Caraga, a land-holding company, does not plan to sell his first crop but instead will give the shrimp to potential investors and local leaders. He is also involved in a company that has rental properties and does light construction. His wife, the former Joanne Carbone of Struthers, operates the Village Pantry store in Poland Village.
"Growing shrimp is a pilot project. I'm trying to prove to myself and the community that this will work," said Eiselstein.
alcorn@vindy.com
Shrimp can swim only backward.
There are an estimated 4,000 recipes for shrimp.
A shrimp's heart is in its head.
Shrimp are sized and sold by count (number of shrimp per pound), either whole or headless.
Shrimp are an excellent source of high- quality protein and are low in fat.
Shrimp can be prepared through the following methods: boiled, broiled, baked, grilled or fried.
The United States is the world's largest market for shrimp.
There is less risk of shrimp-crop loss in shallow ponds due to dissolved oxygen depletion.
The use of well water makes it less likely that unwanted insects will enter the pond.
If freshwater shrimp appear on the edges of the pond, especially in the morning or afternoon, there is probably a water-quality problem.
Shrimp find their food by smell, taste and feel rather than with eyesight.
Shrimp usually live on the bottom of the pond.
Source: Kentucky State University