Leetonia defeats Lisbon 41-7
Leetonia 41 Lisbon 7 - 8.27.2009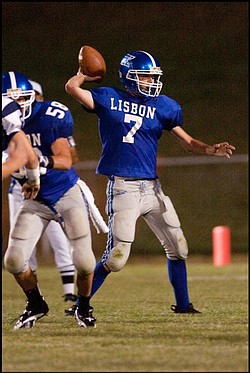 Gallery
8.27.2009 Leetonia defeats Lisbon 41-7 at Lisbon on Thursday evening.
By ERIC HAMILTON
VINDICATOR CORRESPONDENT
LISBON — Throughout its football history, Leetonia's idea of a balanced offense has been more than one running back going for over 100 yards in the same game.
But in Thursday's season-opening victory over rival Lisbon, the Bears showcased a two-pronged strategy with the addition of a strong passing attack to complement its their always potent running game.
New quarterback Lance Tullis didn't show any butterflies in his first varsity start, completing 10-of-13 passes for 202 yards and two touchdowns.
After falling behind 7-0, Leetonia reeled off 41 unanswered points to beat the Blue Devils 41-7 on opening night.
"It's great to get that first win," said Tullis, who did not throw an interception. "We knew we could throw on them because of their press coverage, so we knew the fade would be open. It was good to be able to run the ball, then throw it when we wanted to.
"I knew it was my first start and that I had to be ready to go out there and do what I could to help the team. There was some pressure, but this was our rival and we knew it was important for our community to win."
The Leetonia win is the third straight over Lisbon and the Bears have retained the game trophy — the Spaghetti Bowl.
Tullis wasn't the only standout for the Bears. Senior receiver Justin Colella had a breakout game as well, hauling in six catches for 144 yards and two touchdowns. He also returned an interception 46 yards for a score.
As Leetonia's passing game blossomed, running back A.J. Bailey served as the main threat on the ground. The senior piled up 120 yards rushing in 25 attempts and scored twice.
"We knew we didn't really have an offensive identity yet before tonight and were unsure about how things would go," said Leetonia coach Matt Altomare, who now owns a 3-0 record against Lisbon. "I am very pleased with our balance offensively and we were able to throw the ball, which is something you don't hear much about at Leetonia.
"We just told Lance to do well at what you can do and manage the game well for us, and I think he did that tonight. There were some nerves there, but all the kids get a little nervous the first game. Our defense played well in the second half and showed some intensity and got some turnovers."
Leetonia outgained the Blue Devils 393-167 and the defense forced three turnovers. Lisbon's lone touchdown came as a result of a one-play, 7-yard drive with 8:19 left in the first quarter.
It was all Leetonia the rest of the way. After scoring once in the second quarter to build a 13-7 halftime lead, the Bears added four more touchdowns in the second half to pull away.
"Our quarterback surprised me a little bit tonight and I was proud of how he called the right plays and the line blocked really well," said Colella. "We've been working with each other a lot and I knew we'd have a good connection throwing the ball. Things were a little rough in our scrimmages, but everyone stepped up and I think we're going to have a good quarterback on our hands."