YSU enrollment continues to rise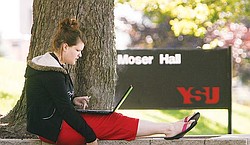 Photo
ENROLLMENT UP: Freshman Rachel Clifton of Hubbard, took a moment between classes to check her schedule as Youngstown State University. University officials said first-day enrollment Monday for the fall semester reached 14,425, the highest number in 16 years.
The number could climb even higher over the next couple of weeks.
STAFF REPORT
YOUNGSTOWN — Enrollment at Youngstown State University has surpassed the 14,000–student mark for the first time in 16 years.
The university reported that enrollment as classes opened Monday for the fall semester was 14,425, an increase of 1,002 students over the morning of the first day of classes last fall, a 7.5 percent increase.
The numbers are preliminary as official enrollment counts won't be available for two weeks.
However, if trends from past years hold true, the number of students could increase even more over the next 14 days through late enrollment, said Thomas Maraffa, senior assistant to President David C. Sweet.
As an example, by noon Monday, the number of students had already jumped to more than 14,500, according to the university.
It is the first time since 1993 that YSU's enrollment has cracked the 14,000 level. Nine years ago, enrollment was 11,787, the lowest point since YSU became a public university in 1967, a university spokesman said.
"This is an incredible accomplishment for the university and the community," Sweet said. "Over the past several years, we have all worked very hard to develop high–quality academic programs that respond to the needs and interests of our students and the community and to offer those programs at a cost to students and parents that is extremely competitive across the region and the state."
"Increasing the percentage of residents in the Mahoning and Shenango valleys who have a college education is key to the region's economic future. I want to thank everyone on campus, from our admissions office to our faculty, for their diligence in making enrollment a priority for the university," he said.
Building YSU enrollment has been one of Sweet's primary goals since he became president in 2000, with the 14,000 mark becoming a nearer target over the last few years. Under his direction, the university has developed an aggressive marketing campaign to attract new students, particularly from the Western Pennsylvania area along the Ohio border.
One of the latest moves was approval from the YSU Board of Trustees this year for the "Western Pennsylvania Advantage," which essentially allows students from eight Western Pennsylvania counties to attend the university at nearly the same tuition rate as in-state undergraduate students.
The program eliminates a $2,700 annual tuition surcharge for those living in the eight counties, reducing their rate to just $200 a year above in-state tuition which is set at $6,956 this fall.
University officials said the program has resulted in an increase in applications from the border counties.
More like this from vindy.com