Cash For Clunkers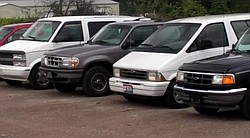 Video
Cash for Clunkers program has been great for Boardman Subaru owner Rob Fellman.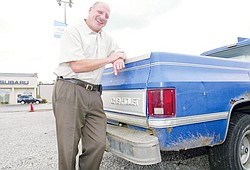 Photo
ALL SMILES: Rob Fellman, owner of Boardman Subaru, South Avenue, leans on one of the many "clunkers" he took in on trade during the federal government's Cash-for-Clunkers program. Under the $3 billion federal program, which ended Monday, new vehicle buyers received from $3,500 to $4,500 cash back for their old gas-guzzling vehicles.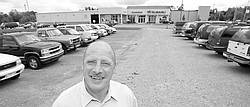 Photo
OLDIES BUT NOT SUCH GOODIES: Rob Fellman, owner of Boardman Subaru and vice president of the Auto Dealers Association of Eastern Ohio, said the Cash-for-Clunkers program was a big success. He is standing in front of some of the clunkers he took in on trade from customers who cashed in on the $3,500 to $4,500 the government was offering to new car buyers. A lot of the trade-ins were almost worthless, he said.
Dealers want their government money, said the head of the Auto Dealers Association of Eastern Ohio.
By WILLIAM K. ALCORN
VINDICATOR STAFF WRITER
YOUNGSTOWN — Now that the Cash for Clunkers program is over, the next question is when will area dealers get their money from the federal government.
The program, which area dealers say was successful in spurring sales and getting a lot of vehicles off the road that needed to be retired, ended at 8 p.m. Monday.
The program will not be a complete success, however, until all the dealers have been paid by the government, said Steve Chos, executive vice president of the Auto Dealers Association of Eastern Ohio.
Cash for Clunkers, officially known as the CAR Allowance Rebate System (CARS), was a $3 billion government program that helped consumers buy or lease a more environmentally friendly vehicle from a participating dealer when they trade in a less fuel-
efficient car or truck.
Consumers were able to take advantage of the program and receive a $3,500 or $4,500 discount from the car dealer when they traded in their old vehicle and purchased or leased a new one.
The National Highway Traffic Safety Administration, a part of the Department of Transportation, administered the program.
"None of the dealers I've spoken with have received all of their money. They were supposed to be paid within 10 days of inputting a deal, and some have still not been paid for deals going back to late July and early August," Chos said.
That is creating a serious cash-flow problem for some dealerships, who have to pay bills and make payroll and pay back the lenders who put up the money for their stock of new vehicles, Chos said.
Dealerships have had varying levels of success in getting government reimbursements.
Diane Sauer Chevrolet in Warren has "so far had zero paid back from the government," Bill Rutledge, sales manager, said Monday.
Plus, he said, the 27 clunker deals made between July 27 and Aug. 1 are not eligible for the $4,000 per vehicle that GM is fronting its dealers until their government money arrives.
Program legislation was passed July 1; however, the rules were not revealed until July 27. Dealers could begin signing deals July 24 and inputting them for approval after July 27, Chos said.
The rules specified dealers would be paid within 10 days, but as of last Thursday, the Department of Transportation had $1.9 billion in deals submitted. Of that amount, only about $150 million had been paid, he said.
Area dealers are sitting with significant outstanding receivables up to $600,000 owed them by the government, Chos said.
Secretary of Transportation Ray LaHood and President Barack Obama stated last week that the dealers would be paid for the transactions.
"However, the dealers are sitting here waiting and its not coming, or coming very slowly," Chos said.
"We're working with auto dealers to make sure the Department of Transportation lives up to its commitments, and do it quickly. It needs to pay auto dealers sooner rather than later. They shouldn't have to wait to receive that money," said U.S. Sen. Sherrod Brown, a Democrat from Avon.
Brown couldn't give a time frame as to when the dealers will get the federal payments, but "it should come soon."
As for the program, "it's been an unqualified success. It surprised all of us. It was a huge success," Brown said.
Despite Monday's deadline for deals, Chos said many local dealers stopped offering the program last week when it was announced that the program would end.
One dealer who didn't stop making deals, R.D. Banks Chevrolet in Champion, may have profited by other dealers shutting down clunker deals early.
The business kept doing deals and sold five vehicles under the program Saturday, some of whom were customers from out of the immediate area who owner Russell Banks thought would normally have gone to dealers who were no longer doing deals.
"It [clunkers program] did what it was supposed to do," said Banks, who also is president of the Auto Dealers Association of Eastern Ohio. "It took a lot of gas hogs off the road, and drove more traffic into our showroom that any single program we've ever had."
Another dealer who thinks the clunkers program was a big success is Rob Fellman, owner of Boardman Suburu.
It created a lot of activity around the dealership and led to a 40 percent to 50 percent increase in sales in July, he said.
"Right now, I have more clunkers than new Suburus on the lot," he said.
The negative of the program was that the government was unclear on the procedures and the slowness in approving payments.
Fellman said, however, "We were on top of it from the get-go. We've been paid on 10 deals, two early in the program, and eight more that hit my bank account over the weekend."
The value of the clunker trade-ins varied from dealer to dealer.
"A lot of vehicles we took in were almost worthless. Most were somebody's extra vehicle," Fellman said.
But, Mike Hudock, general manager of Stadium Chevrolet Buick Pontiac GM Cadillac in Salem, said a "lot of very nice cars went away ... a lot of trade-ins we would loved to have had."
Likewise, Rutledge of Diane Sauer Chevrolet said the program took a lot of trade-ins that the dealership might have had off the market.
Hudock said Cash for Clunkers definitely brought traffic into the store that turned into sales. The dealership had made 82 to 83 clunker deals as of Monday morning.
And people who couldn't find what they wanted in terms of payments on a new car were open to looking at used cars, he said.
alcorn@vindy.com