Peace Race Tips: It really is about how you look
Peace Race Training Tip #5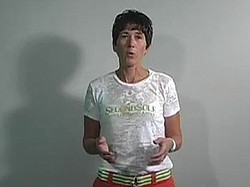 Video
Peace Race president Jenn Wohlgamuth gives a training tip for runners.
Week 5:
IT REALLY IS ABOUT HOW YOU LOOK
Go ahead and look in the mirror today and give yourself a great big pat on the back…or a hug! Nice job. A month straight and you are still moving. Let's talk about form. What does it feel like when you run? Are you feeling like you have two lead weights on your back and legs or do you feel light and carefree? We are going for light and carefree. I want you to close your eyes and go back to the summer when you and your friends played flashlight tag in the backyard on summer nights. When you were running around feeling free with your arms down around your waist helping you propel forward. You had a smile on your face … remember? Yep, that is how I want you to run. Lean slightly forward, step lightly towards the ball of your foot, shoulders up, breath lightly and most importantly … SMILE!