Auction of Pavlik photographs to benefit youth workshops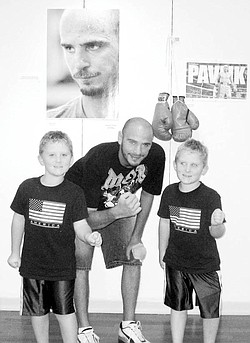 Photo
Special to The Vindicator FAN APPRECIATION: Although they may be too young to bid on the photographs of the boxing champ, Kevin and Kyle Chopko enjoy having their pictures taken with Kelly "The Ghost" Pavlik.
NILES — Art Outreach Gallery at the Eastwood Mall is conducting an auction of photographs of Kelly "The Ghost" Pavlik to raise funds for after-school and Saturday youth workshops.
The six different action-packed photographs were donated by The Vindicator.
The starting bid for each photograph is $100, and bids will be accepted until Nov. 1. Bids can be placed at the Art Reach Gallery from 5 to 9 p.m. Fridays, 1 to 9 p.m. Saturdays, and 1 to 5 p.m. Sundays.
Pavlik will personally autograph the photographs for the highest bidders.
For details on the special auction, contact Gail Stark, (330) 219-7833.