Throngs welcome Wal-Mart to Liberty
Liberty Wal Mart Opens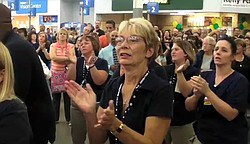 Video
Wal Mart employees do the Wal Mart Cheer during the August 19, 2009 grand opening of a Wal Mart Store in Liberty, OH.
Liberty Walmart Opens

Gallery
Liberty, OH Wal Mart store opens August 19, 2009
LIBERTY — The new Wal-Mart on Belmont Avenue has had residents buzzing, and finally after months of preparation everyone got to see what the fuss was about.
The 157,000-square-foot store opened to the public Wednesday morning after a ribbon- cutting ceremony and with a line of customers waiting outside.
Betty Golden, 46, of Liberty, said she'd been waiting for the store to open for weeks. "I moved here from an area that had a Wal-Mart close by, so I'm excited," she said.
Golden said she thinks the new store will attract people to the township who will shop at other local businesses as well as Wal-Mart.
"It's going to affect this area in a very positive way," she said. "All business has a positive effect because more people will come shopping."
Golden and her two daughters were just three of more than 50 people waiting in line for the store to open.
Shamara Golden, 14, of Liberty, said she decided to wake up early and do some back-to-school shopping with her mom and sister.
"I start my freshman year at Liberty High School, so I'm excited to get my school clothes and other things," she said.
Debbie Graham, 50, of Liberty, said she lives three blocks from the new store and had been checking back for several days to find out when she could start shopping. When she heard Wednesday was the day, she was one of the first in line.
"I'm an early person, I got here at about quarter to seven," she said. "This store is huge. Compared to other stores I've seen, I think this one is the biggest."
Graham said besides being happy to see one of her favorite stores built in her hometown, she's glad for the jobs the new store has created.
"That's the important thing," she said, "That's what we need most around here, the jobs."
Wal-Mart manager Thomas Urena said the new store employs 356 people, and only about 40 were transferred from other Wal-Marts.
"All the rest were new hires," he said. "We took online applications and had a pool of about 3,800 applications to choose from."
Urena said it feels good to finally see customers shopping in his store.
"For one thing, it's been long anticipated," he said. "There's a big hope that we can be on the forefront to get business down here."
It didn't seem that Urena would need to worry about that. Just minutes after the doors opened, customers began streaming in, filling their carts with fresh produce, school supplies and other necessities. Business was booming.
The number of customers already inside the store didn't surprise Debbie Patterson, who works in the accounting office.
"I expect we'll be very busy all day," she said, "It's going to remind me of the day after Thanksgiving."
One thing Urena said may surprise customers, however, is how energy-efficient the store is.
He said more than 100 sky lights are installed in the roof to cut back on artificial light.
"The lights are dimmer when the sun is out, and as it clouds up, the store lights up more," he said.
Urena discussed cooler lights that stay off until a customer walks down an aisle. He also said the floors are made from recycled concrete and fly-ash materials.
"We want to be on the forefront of sustainability," Urena said. "Wal-Mart feels strongly that we need to be leaders in reducing that carbon footprint."
The store is open from 6 a.m. to midnight seven days a week and features a full line of groceries including a bakery, a deli serving fresh food and meals, meat and dairy products, fresh produce and beer and wine.