For victim's son, Getsy's apology comes too late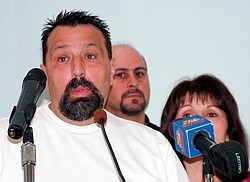 Photo
FAMILY SPEAKS: Chuck Serafino talks with reporters after the execution of Jason Getsy, 33, who killed Serafino's mother, Ann, of Hubbard in 1995. Chuck Serafino said Tuesday at the Southern Ohio Correctional Facility near Lucasville that Getsy never "took responsibility for what he did." Chuck Serafino was shot in the face.
Jason Getsy Execution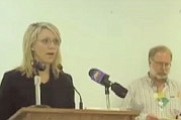 Video
Words from court reporters and victim witnesses Charles and Nancy Serafino regarding the execution.
Getsy stared at his friends and uncle and aunt, then appeared to fall asleep after about a minute.
LUCASVILLE — Jason Getsy faced the children of the Hubbard woman he killed 14 years ago and apologized before being executed for the crime.
"To Chuck and Nancy Serafino and your loved ones, for all the pain that I have caused you, it is my earnest prayer that God grant you peace," Getsy said before the lethal injection that ended his life Tuesday morning. "I'm sorry. It is a little word, I know, but it's true."
Getsy, 33, was pronounced dead at 10:29 a.m. at the Southern Ohio Correctional Institution near Lucasville. Brother and sister Chuck and Nancy Serafino witnessed the execution, along with a niece of the murder victim.
"It's too little, too late," Chuck Serafino told reporters afterward. "He's been asked a number of times to tell the truth, and he has not. ... I wrote to him, asked for the truth. He lied then, he lied to the parole board. To this day, he has never taken responsibility for what he did."
He added, "I'm pretty forgiving. I'm going on with my day. This day, this is nothing for me. ... All I know is my mother's still in the grave, and that's the bottom line."
Getsy, also of Hubbard, was convicted in the 1995 murder of Ann Serafino and the attempted murder of her son, Chuck.
Getsy and two other men were hired to kill Serafino by another individual over a business disagreement; though shot in the face at point-blank range, Chuck Serafino survived.
The state parole board recommended clemency in the case, because Getsy was the only one of four co-defendants, including ring leader John Santine, to get the death penalty.
But Gov. Ted Strickland rejected a sentence commutation late last week. The U.S. Supreme Court denied a last-minute attempt to delay the execution.
The death chamber
Witnesses to the execution arrived in the observation room in the death house just after 10 a.m. Tuesday.
In addition to the Serafino family, witnesses were Getsy's uncle and aunt, Ron and Angela Manes, and friends Saundra and Henry Cardillo. The latter, a minister, also served as Getsy's spiritual adviser.
Shortly afterward, television monitors were turned on, showing Getsy lying on a table in the holding cell, wearing a white shirt, blue pants with red stripes down the legs and black shoes.
He remained calm as staff inserted shunts into his arms, a process that took about 10 minutes.
He was then helped from the table and walked to the death chamber — about 17 steps away — where he was strapped to another table, and intravenous tubes were connected to the shunts.
Getsy looked up at his witnesses, who held hands and sobbed throughout the process.
He also looked at the Serafinos and offered his apology.
"For everyone else, God is so great that he gave his only son that I may be forgiven for all my sins," Getsy said after apologizing to the victim's family. "Even today, lying here, I can say how blessed I am."
After his final statement, the lethal injection was started, with three separate drugs involved: one that rendered Getsy unconscious, then a muscle relaxer and a final solution that stopped his heart.
Getsy stared at his friends and uncle and aunt, then appeared to fall asleep after about a minute.
Prison personnel shook his arm and shoulder and called his name after the first drug was administered, and the shunts were checked.
The final two drugs took about five minutes to inject. Getsy heaved a few final breaths.
And at 10:29, he was pronounced dead.
Family reacts
Chuck Serafino said justice was a long time coming — the sentence should have been carried out years ago.
"He had to pay for what he did," he said. "We all have to pay for what we do in life."
Nancy Serafino thanked the state attorney general's office, Trumbull County Prosecutor Dennis Watkins and others involved in the case, particularly during the past few weeks after the parole board recommended clemency.
It was "the worst four weeks of my life," Nancy Serafino said. "I would have felt like he won again if the sentence was not carried out. He sentenced us to life without my mother for 14 years and the rest of my life, and it's time that his sentence [was carried out]."
She added later of the execution process, "That was a lot more humane than what he did to my mother 14 years ago, because he basically just went to sleep."
Nancy Serafino added that she believed Getsy's apology was genuine.
Getsy's family and friends, who witnessed the execution, did not speak to reporters afterward.
Last hours
Getsy spent Monday evening eating a special meal and visiting for several hours with friends and family. Visitors included his aunt and uncle and his grandmother.
He also spent about 20 minutes with his two attorneys, said Julie Walburn, spokeswoman for the Ohio Department of Rehabilitation and Correction.
After the visits, Getsy requested 15 stamped envelopes from his personal belongings, wrote more letters and made several phone calls. He also finished the remainder of his special meal, which included steak, chicken wings and onion rings; he did not eat the slice of pecan pie and vanilla ice cream that were provided.
"Throughout the evening, the execution team has indicated he has been upbeat," Walburn said during a press briefing at the prison before the execution. "He's remained positive, very respectful with staff. That's consistently what they have indicated to us."
Getsy completed routine mental health and vein checks throughout the night, Walburn said.
He slept from 2:22 a.m. until 5:32 a.m., then showered. He declined the prison-issue breakfast and resumed visits with the same visitors from the prior evening, Walburn said. He and visitors were increasingly emotional and visibly upset as the meetings came to an end.
Getsy's body will be cremated, with the remains turned over to his family. His uncle will receive his belongings, Walburn said.
Getsy is the 32nd inmate to be executed since Ohio reinstated the death penalty in the late 1990s and the fourth this year. Executions are scheduled, one per month, through February.
There are 168 inmates — 167 men and one woman — on death row.