Back To School Shopping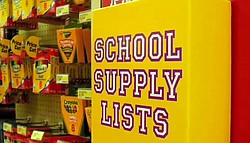 Video
Valley shoppers pick out school supplies.
Requirements for odd supplies are questionable.
Many parents have their back-to-school shopping routine down to an exact science.
With lists in hand, they shop around, buy early and stock up on supplies weeks before the opening bell rings.
The basics are easy: notebooks, crayons, pencils and paper. But some are noticing a few interesting additions to their supply lists.
Dry-erase markers, Clorox wipes, hand sanitizer and Ziploc bags have found their way into shopping carts across the Mahoning Valley.
"It seems like the older kids don't have it as bad," said Ruth Less, of Columbiana, who has two daughters in the sixth grade and was stocking up this month at Target in Boardman. "But something like Clorox wipes seems like something the school should provide. ... It's not really a school supply."
The Vindicator obtained supply lists for multiple schools throughout the Valley and asked parents and teachers about their contents. Most of the lists included the basics, but some added unusual items.
Poland Union Elementary School Principal Carmella Smallhoover said the teachers put the lists together then sit down with her to finalize the details.
"I look over them, and we discuss them," she said. "I pretty much know what each item is for."
But it may not be as clear for parents why Poland Union, for example, is asking for a blank cassette tape and nine stamped, blank envelopes.
"A lot of the children read orally, and the readings are recorded on the blank tape," Smallhoover said. "The envelopes are for teaching the children about addressing by corresponding with their parents."
Less still seemed less than pleased to be shelling out cash without explanation.
"When I was in school, we never had to get any of that," Less said. "We had to supply crayons and pencils, and that was about it."
Parents said they are noticing more of a demand to provide personal cleaning supplies and other classroom materials as well. And if specific items aren't in question, the requested quantities of some items have raised a few eyebrows.
Smallhoover said the school does provide as much as it can.
"We do supply the basic things, markers and crayons, but let's face it, children really like to have their own box of crayons," she said. "We found that it's much better for them to bring their own."
South Range Superintendent Dennis Dunham said his district has cut back on many of the non-essential items such as cleaning supplies.
"Things you don't really have to have, we've cut back on. Some, but not all, like tissues and cleaning wipes," he said. "Instead of anti-bacterial, we're advocating that the kids wash their hands regularly."
Austintown Superintendent Vince Colaluca said though parents are responsible for their share of supplies, teachers bear most of the burden.
He said teachers in kindergarten through sixth grade are given a supply budget of about $60, but that doesn't cover everything, and many have to pay for supplies out of their own pockets.
"Teachers do spend a lot of their own money. It's kind of a balance between the teacher and parents," he said. "There's been a lot of times when I am out buying supplies for my own kids, and I've seen teachers out buying 25 to 50 boxes of crayons on sale because they know they'll need them."
Colaluca said he doesn't think the amount of items requested are excessive.
"We have not had any complaints about our lists. All our parents have gone through school, so they know what goes on," he said. "As a district, we supply much of the academic supplies."
Many of the lists have reminders to parents that supplies may run out during the year and need to be replaced as needed.
"I'm sure there are a lot of students who don't supply that, who can't supply that, so the other kids make up for it and halfway through the year they're in need of those supplies again," Less said. "Like with Kleenex, kids get sick and then everyone else gets sick with them."
The lists have grown so extensive that the receipt for the supplies could easily dwarf the actual list.
That, said Thea Hare, a Boardman resident with two children in middle school, doesn't include other fees and expenses.
"It's annoying, but what are you going to do?" she said. "And then [the students] get there and you have assignment fees and workbook fees. I probably shell out at least $100 on the first week for all of that."
Though many schools collect additional fees, Smallhoover said workbook costs are built into her school's budget at Poland Union.
"We supply all the workbooks for math and reading," she said. "Those prices of those workbooks have gone up unbelievably. It cost $20 to $25 per book."
A tough economy complicates the process, said Lisa Szul of Canfield.
"We're just trying to be a little bit more frugal and spend our money wisely," said Szul, who has a daughter in sixth-grade and another entering Canfield High School. "Hopefully we'll be able to get it all at a decent price."
Many retailers have reduced prices to draw in business and ease the process.
Aaron Komlos, executive at the Target store in Boardman, said back to school shopping time rivals major holidays like Christmas and Halloween.
"It's coming upon the peak of the season, so right now we're seeing a lot of guests come into our store looking for their back-to-school basic items like notebooks, crayons, pencils and pens.," he said.
Administrators do recognize though, that not all families can afford to buy supplies.
"There has to be a balance between the home and the school, but what if parents just can't afford it?" Dunham said. "By no means would we penalize the child. We'd work to find ways to get those children supplies."
efranco@vindy.com
jmoffett@vindy.com
---
Supply list comparison || Two Austintown schools
For parents, the last few weeks before school begins are likely spent supply shopping. The supply lists are compiled by teachers in each grade and approved by the building principal. We take a look at how two lists for the same grade in the same district can differ per school building.
THIRD GRADE, WOODSIDE ELEMENTARY:
Two packs of 24-count crayons: $0.25 each
Eight glue sticks: $3.99 for a pack of 12
Twenty-four No. 2 pencils: $0.92 each for a pack of 12
Four spiral notebooks: $0.60 for a pack of four
Four pocket folders — the heavier quality: $0.97 each
Scissors: $2.49
Four red ball-point pens: $0.50 for a pack of 12
Four highlighters, no pink or blue: $3.99 for a pack of eight
One zippered pencil case: $1.49
Two boxes of tissue: $1.57 each
Thin markers, 10 or 15 count: $1
One ruler with inches and centimeters: $0.50
Two packs of wide-ruled notebook paper: $0.75 each
Two packs of colored pencils: $0.79 each for a pack of 12
Six to eight dry erase markers: $7.89 for a pack of eight
Two large containers of Clorox wipes: $4.64 each
One pack of 3 x 5 index cards: $0.47
One set of index cards on spiral rings: $0.47
One roll of paper towels: $1.97
One old, washed sock or eraser for dry erase markers: NA
Two boxes of quart or gallon Ziploc bags: $3.59 each
School box: $0.79
One pink eraser: $0.97 for a pack of two
One heavy folder with three holes: $0.97
Total: $52.53
THIRD GRADE, LLOYD ELEMENTARY
Two pocket folders, one red and one blue: $1 foe a pack of 10
Two yellow highlighters: $0.89
One Package of No. 2 pencils: $0.92
One Package of wide-ruled notebook paper: $0.75
Nylon zipper pencil pouch: $1.49
Elmer's School Glue: $0.25
Scissors: $2.49
A metric/standard ruler: $0.50
Four wide-ruled, spiral notebooks: $0.60 for a pack of four
Crayons: $0.25 for a pack of 12
Markers: $1 for a pack of 10
Two boxes of tissues: $1.57 each
One package of 3 x 3 Post-It Notes: $2.79
Two red pens: $0.50 for a pack of 12
Four black or blue, low odor dry erase markers: $2.12 each for a pack of two
Total: $20.81
Source: Austintown School District supply lists.