City cop off the job for alcohol use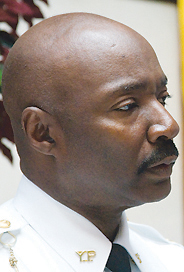 Photo
This is the officer's second suspension this year.
YOUNGSTOWN — A city police officer is suspended and may undergo alcohol treatment after it was discovered he showed up for work under the influence of alcohol.
According to police, Detective Sgt. John Payne reported for work Aug. 10 over the departmental limit for alcohol. He was suspended without pay beginning Aug. 11.
Police Chief Jimmy Hughes said department officials handled the situation immediately upon learning Payne had alcohol in his system. He said Payne was taken off duty less than an hour after his shift started Aug. 10.
"We have a system of random drug testing, and we did receive some information that an officer had been drinking before work and came to work over the limit. We did test him, and he was over what we refer to as the limit for an officer on duty. He was removed from duty immediately," said Hughes.
According to Hughes, the departmental limit for alcohol is 0.04. He said Payne was definitely above the departmental limit and may have been above the legal driving limit of 0.08. He said the department is waiting on test results before releasing Payne's exact blood-alcohol level.
The chief said it is important to note that preliminary tests show only alcohol and no other substances were detected in Payne's system.
Payne has been suspended for 30 days without pay, but Hughes said some of the suspension time can be negated because Payne has agreed to undergo some form of alcohol treatment.
"This is all part of our contract. When someone tests positive for alcohol or drugs, the contract calls for up to 30 days' suspension and possible treatment," said Hughes.
Hughes said the public needs to understand that the department takes alcohol abuse seriously, and continual abuse could cost an officer his or her job.
"This is not to be tolerated, and I don't tolerate it. We will randomly test him three or four more times before the year is out just to make sure he is not a habitual offender of this. These subsequent tests could lead to dismissal from the department," he said.
Payne was suspended without pay earlier this year, in June, over an altercation with another police officer in March.
Hughes said Payne and Sgt. James Pasquale were talking about work assignments and job-related issues when the discussion turned serious.
He said one punch was thrown, and a wrestling match took place between the two men before they were separated.
Each officer was given up to five days off work and an option to attend anger-management counseling to negate some of the suspension time.
Payne was also given the option of giving up vacation time to account for the suspension.
jgoodwin@vindy.com