Nuno leads Scrappers to win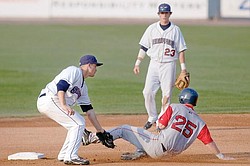 Photo
8.16.2009 Mahoning Valley Scrapper, Kyle Bellows, tags Lowell Spinners' Ryan Westmoreland, as he slides into second base during the top of the seventh inning at Eastwood Field on Sunday afternoon. Unfortunately, Westmoreland was called safe resulting in words of condemnation from the crowd. Geoffrey Hauschild
NILES — Vidal Nuno spent the first part of his season in the bullpen for the Mahoning Valley Scrappers where he did an admirable job.
But after being inserted into the rotation a few weeks ago, the 5-foot-11 lefthander flourished and has become the Scrappers most consistent starter.
Nuno, who was selected by the Indians in the 42nd round of the first-year player draft in June, set career bests in innings pitched (seven) and strikeouts (six) on Sunday as the Scrappers defeated the Lowell Spinners 4-2 at Eastwood Field.
The win improves the first-place Scrappers to 36-21 heading into the New York-Penn League All-Star break.
The Scrappers split their six game homestand, 3-3, and remain at the top of the Pinckney Division.
Nuno retired the first 10 Lowell batters he faced, allowed two hits and one unearned run to earn his fourth victory (4-0) of the season.
"He was tremendous tonight," manager Travis Fryman said. "He's really stepped up.
"We put him in the rotation and he's pitched well for us. He's probably been our most effective pitcher this past month. All of our guys have thrown well at times, but Nuno has really stood out."
The Scrappers took a 1-0 lead in the third inning when leadoff batter Jesus Brito doubled to right-center field, advanced to third on a sacrifice bunt from Juan Aponte and scored on Tim Palincsar's RBI groundout to the right side.
Fryman said that his team has worked hard to come through in situations with runners on and less than two outs.
"When you play close ball games, it will always boil down to execution from a situational hitting stand point and more often than not that takes point in the first five innings of a ball game," Fryman said. "Everyone remembers innings seven, eight and nine, but those [situational] moments usually take place early in the game."
Palincsar's solo homer in the fifth made gave the Scrappers a 2-0 advantage.
Two more runs in the sixth pushed the lead to 4-0. Greg Folgia walked and advanced to third on Ben Carlson's single through the right side.
Brito drew a walk to load the bases and Aponte hit a RBI single up the middle that scored Folgia for a 3-0 lead.
Carlson came home later in the inning when Jordan Henry was hit by a pitch with the bases loaded.
Relief pitcher Austin Adams worked the eighth and ninth innings and earned his first save.
Adams found some trouble in the ninth after giving up a single to Alex Hassan and a double to Chris McGuiness in back-to-back at bats. Willie Holmes hit a sacrifice fly that scored Hassan and cut the lead to 4-2.
Fryman said he wasn't thinking about bringing in another pitcher after Adams gave up the run.
"We rarely use our bullpen in a way where we bring in guys on random days," he said. "We have a schedule that we follow pretty closely so that all of our guys get work. Occasionally, we might flip flop some guys around.
"Austin's [Adams] confidence has been pretty high and that started up in Vermont on our last road trip. He's been throwing with more velocity and we felt comfortable with him out there in the ninth inning."
The Scrappers have today and Tuesday off for the All-Star break before traveling to play a three-game set with Hudson Valley beginning Wednesday.
Fryman and his staff will coach the American League squad in Tuesday night's NYPL All-Star game held at State College, Pa.
"We were picked to represent the AL because our team had the best record at the Aug. 10 deadline," Fryman said. "I haven't set the lineup yet, but I'm looking forward to being a part of the game."
Fryman said as of now the Scrapper's Henry will be the starting center fielder for the AL team.
Joining Henry at the All-Star festivities are pitchers Cory Burns, Clayton Cook and Marty Popham.
LowellScrappers
abrhbiabrhbi
Gibson 2b4000Henry dh2001
Pichardo rf4010Vera dh1000
Westmore lf3100Frawley 2b3000
Hassan lf1110Kipnis cf4000
McGuiness 1b4010Bellows ss4000
Holmes dh3012Folgia lf3110
Kileen c4000Carlson 1b3120
Bermudez cf3000Brito 3b3110
Garcia ss3000Aponte c3011
Vazquez 3b 3010Palincsar rf3112
Totals32252Totals29464
Lowell000000101—2
Scrappers00001200x—4
E—Pichardo (8), Carlson (6). DP—None. LOB—Lowell 4, Scrappers 9. SB—Henry (17). 2B—Pichardo (7), Vazquez (1), McGuiness (16), Brito (4). HR—Palincsar (1).
IPHRERBBSO
Lowell
Wilson L, 0-1311120
Bayer2 21111
Bugary 122220
Neuman 210001
Scrappers
Nuno W, 4-0721006
Adams S, 1231101
Balk—Nuno. HBP—Henry (by Bugary), Palincsar (by Neuman). IBB—None. Umpires—Home, Brian Debraywere; Bases, Jose Rivera. T—2:12. A—3,046.
HOW THEY SCORED
Scrappers, 3rd — Jesus Brito doubles to right field. Juan Aponte out on a sacrifice bunt, pitcher Alex Wilson to second baseman Derrik Gibson, Brito to third. Tim Palincsar grounds out, Gibson to first baseman Christopher McGuiness, Brito scores. Jordan Henry walks. With Casey Frawley batting, Henry steals 2nd base. Frawley walks. Jason Kipnis grounds into a force out, shortstop Joantoni Garcia to Derrik Gibson, Frawley out at second. 1 run, 1 hit, 0 errors, 1 LOB.
Scrappers, 5th — Tim Palincsar homers to right field. Henry grounds out, Gibson to McGuiness. Casey Frawley grounds out, shortstop Joantoni Garcia to McGuiness. Jason Kipnis strikes out swinging. 1 run, 1 hit, 0 errors, 0 LOB.
Scrappers, 6th — Pitcher Change: Michael Bugary replaces Jeremiah Bayer.
Kyle Bellows flies out to center fielder Ronald Bermudez. Gregory Folgia walks.
Ben Carlson singles to right field, Folgia to third. Carlson advances to second on throwing error by right fielder Wilfred Pichardo. Jesus Brito walks.
Juan Aponte singles, Folgia scores, Carlson advances to third, Brito to second.
Palincsar strikes out swinging. Henry hit by pitch, Carlson scores, Brito advances to third, Aponte advances to second. Frawley strikes out swinging. 2 runs, 2 hits, 1 error, 2 LOB.
Lowell, 7th — Pichardo strikes out swinging. Ryan Westmoreland reaches on missed catch error by first baseman Carlson. McGuiness strikes out swinging.
With William Holmes batting, Westmoreland advances to second on a balk.
Holmes singles to center field, Westmoreland scores. Sean Killeen grounds into a force out, shortstop Bellows to second baseman Frawley to retire Holmes. 1 run, 1 hit, 1 error, 1 LOB.
Lowell, 9th — Pichardo strikes out swinging. Alex Hassan singles to left field. McGuiness doubles to right field, Hassan advances to third. Holmes hits a sacrifice fly to right fielder Palincsar, Hassan scores, McGuiness advances to third. Killeen grounds out, Frawley to Ben Carlson. 1 run, 2 hits, 0 errors, 1 LOB.
More like this from vindy.com