War buddies, locals give Doc grave distinction he earned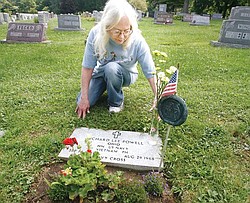 Photo
HERO'S STONE: Pattie Powell Scoville places flowers on the grave of her brother, Navy Corpsmen Richard Powell, who was killed in action in Vietnam. Powell is buried at Lake Park Cemetery on Midlothian Boulevard in Boardman.
Powell rushed into a Vietnam battlefield to aid wounded and was killed.
YOUNGSTOWN — Richard Powell may have died 41 years ago in Vietnam, but memories of him and what he sacrificed for others remain as fresh for some as the day he was killed.
On Aug. 29, Marines who served with Navy Corpsman "Doc" Powell, his 1965 Chaney High School classmates and family will gather at Lake Park Cemetery on Midlothian Boulevard in Boardman to dedicate a new stone on Powell's grave — one that bears the notation that he was awarded the Navy Cross.
It will be 41 years to the day that Powell was killed while aiding wounded Marines in a battle in an area of Vietnam just south of DaNang called "Dodge City." He was two weeks shy of his 21st birthday. He had enlisted in May 1966 when he was 18.
Navy corpsmen are assigned to Marine units because the Marines don't have their own medical personnel.
The Navy Cross, the highest military honor presented by the Navy and second only to the Medal of Honor in this country, was a posthumous recognition, presented to his family in April 1969, eight months after his death, said his sister, Pattie Powell Scoville.
By that time, Veterans Affairs had already placed a stone on his grave, minus the Navy Cross designation, she recalled.
George Adams of Cortland, a Marine who served in the same unit as Powell's, visited Powell's grave regularly for 25 years to pay his respects.
Adams, who grew up in Struthers, said he never had any contact with the men with whom he served in Vietnam until about 14 months ago when he came across his former commander, Byron Weber, on the Internet.
Adams said he took a photo of Powell's gravestone and sent it to Weber, who noticed it bore no mention of the Navy Cross.
"That started all of this," Adams said, explaining that he contacted the local Veterans Affairs office and was told he would need to find a member of the Powell family to make a request for a new marker.
That proved difficult, he said. He was aware that someone was periodically placing flowers on the grave, so he left a note there asking for that person to contact him.
He didn't get a response but learned later that Pattie Scoville was living in West Middlesex, Pa., where he was finally able to contact her.
Scoville said she didn't realize the designation was supposed to be on the gravestone, and she was surprised by the sudden, recent outpouring of support to have a new stone placed. She'll participate in the dedication ceremony by placing a wreath on her brother's grave, she said.
Adams said the occasion has expanded to include a reunion, perhaps the first, for Lima Company, Third Battalion, Seventh Marines, First Marine Division.
About three dozen Lima Company veterans and corpsmen will be here, based at the Holiday Inn in Boardman, coming from as far away as Florida and Oregon, for an Aug. 28 reunion and the dedication the next day. Many of them were in the field with Powell the day he died.
About the same number of Chaney Class of 1965 graduates, many of them also veterans, will be at the dedication as well, said Kathleen Seifert of Youngstown, class secretary.
She remembers Powell as being "gentle, very soft spoken with an astute sense of humor."
Many of those classmates coming for the ceremony were unaware of what Powell had done, she said.
The citation accompanying Powell's Navy Cross recognizes his "extraordinary heroism" Aug. 29, 1968.
The unit to which he was assigned came under heavy fire as it crossed a large field during a battle. They sustained numerous casualties.
"With complete disregard for his own safety, Hospitalman Powell unhesitatingly rushed forward and commenced treating the wounded men," the citation said.
He moved through the field of fire from one injured man to another, and at one point was hit by enemy machine-gun fire that immobilized one of his arms.
"He ignored his painful injuries as he steadfastly continued to render life-sustaining fist aid to his fallen comrades," the citation read.
"Observing a casualty who lay within 15 meters of an enemy machine-gun position, Hospitalman Powell fearlessly advanced into the hazardous area and was mortally wounded by hostile fire while providing vital medical treatment to the injured Marine," the citation said.
Six marines died in that battle, and about two dozen others were injured.
"I was a member of his squad. I was with him the day he died," Adams said.
He saw what Powell was doing and realized the risk.
"I wanted to stop him because I knew he was going to get killed. I told him, 'Don't do it.' He just took off and did it," Adams recalled.
Jeff Lannan of Newark, Ohio, the platoon squad leader, was there as well.
Lannan said he took to Powell right away because they were both from Ohio and he saw Doc as a "homeboy."
"He was just a very, very nice fellow," Lannan said.
"We became good friends," Lannan said, adding that the images of what happened that day still haunt him.
"He was helping everybody, exposing himself. It cost him his life," Lannan said.
Powell ignored calls from others to return to safety. Even after he was shot in the arm, he was tying a guy's bandage using one arm and his teeth, Lannan said.
Lannan said he reached Powell moments after the medic suffered a fatal head wound.
"Doc died in my arms. He was trying to tell me something. He couldn't get it out. That haunts me to this day," he said.
Lannan was also wounded in that battle and said he didn't find out until a few months ago that Powell had been awarded the Navy Cross.
"This event will mean a lot to me," he said of the reunion and dedication ceremony. "I'm just tickled to death they're having that for him."
That Powell died during an act of helping others didn't come as a surprise to classmate Alfred "Skip" Brocious, who now lives in Debary, Fla., but will come back to Youngstown for the ceremony.
"That's just the kind of guy he was," Brocious said, explaining that he essentially grew up with "Dick" Powell from first grade through high school and Bible classes at St. Andrews.
"It's not surprising what he did," Brocious said, recalling an early example of Dick's character.
Volunteers were needed to help collect Lenten boxes that children had filled with coins to provide help to needy children, he said, and Dick, who was in first or second grade, stood up immediately while most kids were trying to shrink out of sight to avoid the task.
"I went with him. That was really unexpected for me," Brocious said. "He just kind of brought that out in people. It was a sign of his character very early,"
Brocious said she didn't see Powell after high school but learned that he had been killed in Vietnam, only recently learning of the details.
Doug Dobransky of Los Angeles, another classmate and also a veteran who will be coming for the dedication, said he remembers Powell as being small in stature. He came across the Navy Cross award while working on a class reunion in 2007.
"When I began to read the account of how he came to be awarded the Navy Cross, our nation's second-highest decoration for bravery, I sat there sobbing at visualizing his last minutes, and how he went about serving fallen buddies on that hill in Vietnam," Dobransky said.
"Richard was taller and braver than any other person in our class that day," he said, adding that he wrote an account of Powell's death for the class reunion program.
"His great sacrifice that day should be made known," he said.
"We're not finished," Seifert said, explaining that there will be additional efforts to make the community aware of Powell's sacrifice.
Both she and Adams said they would like to see a highway interchange, perhaps along I-680, named in his honor.
"This is an all-American story that can be repeated across this country," Seifert said.
gwin@vindy.com