Call-center operation is 'home run' for city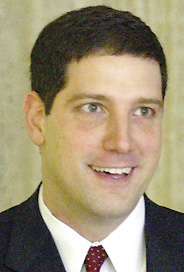 Photo
U.S. Rep. Tim Ryan of Niles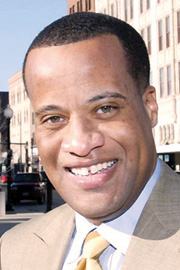 Photo
Youngstown Mayor Jay Williams
VXI Global Solutions is expected to hire 150 people by Oct. 1.
YOUNGSTOWN — A Los Angeles-based call-center company says it will set up business in the city-owned former Phar-Mor Building downtown and eventually employ about 500.
Mayor Jay Williams said VXI Global Solutions is expected to hire 150 people by Oct. 1, when the center is scheduled to open at 20 Federal Place, and an additional 50 a month after that, up to about 500.
If business is really good, VXI has an option on a second floor of the building and could nearly double that number of employees in the future, said Williams, who announced the company's coming at a news conference Wednesday.
"This is a home run for Youngstown," said U.S. Rep. Tim Ryan of Niles, D-17th. "This is a perfect example of stimulus recovery funds that couldn't be better spent."
VXI says it will spend $4 million to retrofit the 31,000 square feet of the structure formerly occupied by Infocision Management Corp., another call-center operation that relocated to its Boardman and Austintown facilities early this year.
VXI has signed a five-year lease with a five-year renewal option, Williams said.
While the loss of Infocision was not good news, a key factor in VXI choosing Youngstown is that the building already has the electronic infrastructure in place for VXI's type of business, said Walter M. Good, Youngstown/Warren Regional Chamber vice president of economic development, business retention and expansion. This was a very competitive process, he said.
Another key factor in choosing Youngstown over other sites in Mahoning and Trumbull counties and across the nation, which VXI noted in its news release, is Ohio's Job Creation Tax Credit program.
Under the program, the company will get a tax credit for a portion of the income tax that its employees pay, said Arnold Clebone, director of the Ohio Department of Development's regional office.
VXI will invest $4 million in the site and the city will contribute $600,000 in federal stimulus funds, which the city will recover through rent paid by VXI, the mayor said.
The rent is $3.58 per square foot on an annual basis, with a reduction for every $400,000 invested, said a city official said, who noted that new VXI hires will be paid an average of $10 per hour. The company is initially looking for experienced professionals in human resources, information technology and contact center operations, she said. Recruiting is being handled by the Mahoning Columbiana Training Association in conjunction with Ohio Job and Family Services One Stop program.
Even in the middle of an economic decline, Youngstown continues to prove that it knows how to get collaborative projects like this done, Williams said.
"We're in the worst economic collapse since the Great Depression. It's amazing what the mayor has accomplished. While other parts of the country are struggling, we here in the Mahoning Valley have been through it and know how to deal with it," Ryan said.
"We are proving that Youngstown is one of the best places in the country to start a business," said Williams, referring to the August issue of Entrepreneur magazine, which named Youngstown as one of the Top 10 cities in the U.S. to start a business.
The magazine gives each city in the Top 10 a nickname. For Youngstown, it's "The Dreamer" — a small city determined to break away from its economic failures of the past.
Williams said the city is embarking on a marketing campaign, using the magazine article as fodder, to keep the positive side of Youngstown on people's minds.
The major said it is still a challenge to sell Youngstown, but it is getting easier and easier.
"If we can get businesses in the door, I guarantee we will be among the finalists. We've had other deals we didn't get, but if we can get them here, we give ourselves a good chance," he said.
The perception of Youngstown around the country is changing, Ryan said.
"We're pushing location and quality of life. People are realizing this is a great place to do business," he said.
alcorn@vindy.com