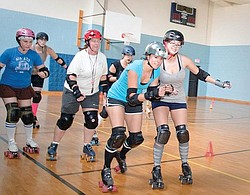 Photo
Mandy Tucker (second from right) squeezes past Natalie Clark (right), who tries to block her progress during a roller derby practice by the Little Steel Derby Girls at the Boys and Girls Club of Youngstown on Sunday evening.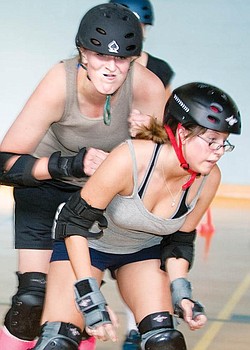 Photo
ROUGH SPORT: Darla Drummond tries to get past another roller derby participant in a recent roller derby practice. About 16 women are practicing within the league that began this past December. They hope to recruit others and eventually generate enough interest to create teams and begin competition.
By Bob Jackson
Feisty new roller-derby group in Youngstownscours region for players, sponsors, venue
Amber Stewart might look like a mild-mannered soccer mom, but don't make her mad or she just might knock you over the rail.
They don't call her Brute Sixty-Kix for nothing.
Stewart, of Bessemer, Pa., is one of the members of the newly formed Little Steel Derby Girls, a flat-track roller derby league being formed in Youngstown.
"We are the first and only all-women's flat-track roller derby league in Youngstown," said Stewart, 28, a housewife and mother of two.
And if you thought roller derby was just some back-to-the-70s retro TV programming, you'd better think again.
"Roller derby is back," said Stewart. "It's huge in big cities. We were basically the only big town around that didn't have a team. Until now."
Tifany Griffith of Enon Valley, Pa., started in November 2008 with getting the league organized after she heard an advertisement for a league in another city.
"I never saw [roller derby] before. Never heard of it," said Griffith, who goes by the derby name Ground Zero. "I started looking into it and thought it really looked like a lot of fun."
Griffith, 28, works in Canfield doing civil design and engineering work. To spread the word about her league, she used social networking tools such as MySpace and Facebook, trying to recruit young women into the program.
Griffith hopes to ultimately register the league with the Women's Flat Track Derby Association, which is the sport's governing body. Once that happens, teams from the local league will be able to compete against teams from other areas, like Akron, Cleveland and Pittsburgh.
Griffith said she hopes to get enough women involved in the Little Steel Derby Girls to form four teams, which would play against one another during a six-month season. There are currently about 17 women involved, enough for two teams, so another dozen or so women are needed.
Becoming a roller derby girl requires a minimum investment of about $200 for basic equipment, which includes a good pair of skates, a helmet, a mouth guard and pads for the wrists, elbows and knees.
It also calls for a considerable investment of time and commitment. Practices alone are two hours of grueling drills aimed at building endurance and agility, as well as skating and blocking techniques.
Oh, and there are also drills on how to fall properly.
"We need to have everybody trained," Griffith said. "If you're not trained, it's dangerous. It's very physically demanding."
"The first question everyone asks me is, 'Do you get hurt?'," Stewart said. "That's what everyone wants to know."
Griffith said anyone who expresses interest in joining the league must first come out and watch a practice.
"They need to see what they're going to get in to," said Griffith, whose only prior skating experience was figure skating on ice. Practices are from 5 to 7 p.m. Sundays at the Boys and Girls Club of Youngstown on Oak Hill Avenue.
Because they skate on a flat track instead of a banked oval, the derby girls don't require any special accommodations. They practice on a standard gym floor at the Boys and Girls Club, and have also practiced at a local roller skating rink and in a gym at Youngstown State University's Stambaugh Stadium.
"If it's flat and hard, we'll skate on it because it's not going to ruin our skates," Griffith said. "We can skate on a tennis court if we have to."
The league needs a suitable venue to hold its bouts for actual league play. They need a facility with a gym-sized floor and seating for spectators.
"We'd love to get into the Covelli Centre, but I guess time will tell whether that will work out," Griffith said.
Bouts consist of two 30-minute or three 20-minute periods, with five skaters per team on the floor: three blockers, one pivot and a jammer. The goal is for the jammer to skate through or past the other team's pack. The other team, of course, does its best to block that from happening.
"It's rough," said Tammy Kemble, 28, of Niles. "It's a full-contact sport and it's definitely aggressive."
Kemble, a single mom who works as a kitchen assistant, said she was not familiar with roller derby and had never skated before joining the league.
"I was just a country girl who grew up with all boys. I just liked to rough-house," she said. "Now I skate."
Griffith said it's not at all uncommon to find women from all walks of life in the roller derby – professional women, married women, and mothers all lace up the skates to play.
"That's what it is now," she said. "It's a more mature sport."
Banging, blocking, scrapes, bruises and flared tempers are part of the territory, but league rules prohibit any sort of elbowing, illegal blocking or fighting. Those things will land a player in the penalty box.
"It's not the roller derby people remember from the 70s," Stewart said. "It's not nasty. It's more sport now. It's even fun just to watch."
Roller derby girls can flex their creative muscles by picking a "derby name," which should suit their personality. Kemble said she is still working on coming up with a moniker.
Names must be submitted to the Women's Flat Track Derby Association for approval to ensure that there are no duplicates.
"I wanted mine to be Amber Alert in the worst way, but it was already taken," said Stewart, explaining that's why she chose Brute Sixty-Kix, a play on Route 66. Kemble said she was likewise too late to lay claim to being The Tamminator.
Griffith said she hopes to have things in place in order to launch her league's first season sometime in 2010. Until then, the Little Steel Derby Girls will keep practicing and recruiting new members.
They are also looking for sponsors.
Anyone interesting in either playing or being a sponsor can e-mail Griffith at littlesteelderbygirls@gmail.com.