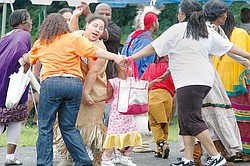 Photo
Dancers with the Red Hawk American Indian Cultural Society and people from the crowd at the Afrikan Cultural Weekend Fest dance to a native American song outside the Mill Creek Community Center Saturday, August 8th.
Local community celebrates legacy of activist Marcus Garvey
By BOB JACKSON
VINDICATOR CORRESPONDENT
YOUNGSTOWN — Hope, not a dream, was the focal point of the local black community at the sixth annual Marcus Garvey Association Afrikan Cultural Weekend Fest.
"We want to keep hope alive, not a dream," said spokeswoman Cynthia Carter. "If you're dreaming, you're asleep."
Saturday's festival at the Mill Creek Community Center on Glenwood Avenue honored the life and teachings of Marcus Garvey.
"He is probably our greatest leader," Carter said. "It was his philosophy and his teachings that made your Malcolm X and your Martin Luther King Jr."
Garvey was born in Jamaica in 1887 and grew up to form the United Negro Improvement Association and African Communities League in 1914.
In 1916, he came to the United States and, after seeing the racial unrest that existed, founded a chapter of the UNIA in New York City. His legacy has grown across the country since then.
"How you make people strong is through independence and self-sufficiency — and that's what he did," Carter said.
Garvey promoted self-sufficiency and pride among the black communities, helping black Americans overcome the oppression of slavery and racial prejudice.
He died in 1940 after being exiled to England, Carter said.
"But his philosophies and his organization and his opinions on black pride and self-sufficiency live on," she said.
The festival, which included displays by several vendors and artisans as well as a wide variety of food and entertainment, takes place each August to mark the month of Garvey's birth, Carter said.
She said anyone who criticizes the black community for holding such a festival is off the mark. She said it's no different than any other ethnic festival, such as the Italian and Greek festivals in many communities each year.
"Racial pride is a part of your culture, and there is nothing wrong with it," Carter said. "This is something fun for our people to do, and it's a way to show pride in our community."
This year's festival also was a fundraiser for the Frankie "Mr. Lucky" Halfacre Scholarship, which is given to a telecommunication student at Youngstown State University.
The recipient must be black, or of American Indian descent with black ancestry, because that was Halfacre's heritage, Carter said.
A team of Indian dancers was among the performers to honor Halfacre at the festival.
"It wouldn't be right to not have something like that here, because that's who he was," Carter said.
She said Halfacre, a longtime area radio personality and radio station owner, stood for promoting the community.
"His saying always was, 'Just doing a little good in the neighborhood,'" said Cabble Breedlove, president of the Marcus Garvey Association of Youngstown.
"He was the black voice of the Mahoning Valley," Carter said of Halfacre, who died in June 2006. "He wasn't afraid to tell black people to stand up and be proud of who they were, even when that wasn't a popular thing to do."
Carter said attendance at this year's festival was considerably lower than in past years. She attributed that partly to the threat of bad weather but mostly to the abundance of other events going on around the area this weekend — most notably the air show at the Youngstown Air Reserve Station in Vienna.
"There are just so many things going on today," she said. "But we are out here, and we're going to have fun."
Breedlove said organizers are proud that there have never been any incidents of fighting or inappropriate behavior at the festival, something that has plagued other festivals in recent years.
"There is nothing here but love," he said. "It's a respectful crowd because we're all conscious people. We respect people, and they respect us. We are not having any of that kind of behavior here."
Among the visitors to the festival was 37-year-old Joe Wilson of Youngstown, who said the festival is a good way of promoting peace and unity.
"We need more things like this," Wilson said. "We need things for people to do, things that are fun for kids instead of all that fighting. We need to get away from hate and everybody come together. If we do that, everything will be all right."
Also in attendance was Kathleen Purdy of Alliance, a Democratic candidate for the Ohio 33rd Senate district seat.
"I believe it's important because it shows the spirit of the community," Purdy said. "There is a rich heritage in Mahoning County. There always has been."