Ursuline's Turner eyes prep school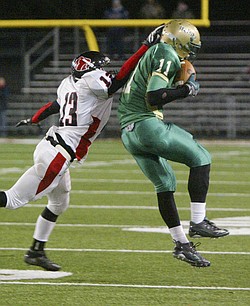 Photo
Ursuline State semi final Nov 22, 2008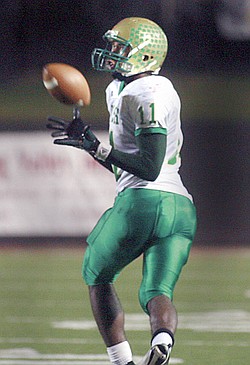 Photo
Jamel Turner catches a pass during a game against Cardinal Mooney in October 2007.
"We're doing everything we can to further his career. We think some day this kid will probably be in the pros."
Jim Maughan, Ursuline athletic director
By Joe Scalzo
The senior-to-be led the Ursuline High football team to the Division V state football championship last season.
YOUNGSTOWN — Jamel Turner may have played his last down for the Ursuline High football team, but there's a good chance he's still headed to Ohio State.
Turner, an Ohio State recruit who helped lead the Irish to last year's Division V state championship as a junior, is ineligible to play football at Ursuline and will attend a prep or military school this fall.
"It's very sad," said Ursuline athletic director Jim Maughan. "He's ineligible anywhere in the state of Ohio. "
Turner has interviewed with an out-of-state school but Maughan declined to reveal the school's name. Rivals.com has reported that Turner will attend Valley Forge (Pa.) Military Academy.
Duane Long, who has a Web site that specializes in high school recruiting, suggested in a May entry that Turner's scholarship offer by Ohio State would be revoked, but that has not been confirmed. Turner plans to use this school year to get his academics and personal issues in order. If Ohio State is satisfied with his progress, he will be allowed to enroll in 2010.
While unusual, it is not unprecedented for top recruits to attend prep schools or military academies prior to college, although many do so after their senior years.
Former Ursuline quarterback Daryll Clark, now a standout player for Penn State, attended The Kiski School in Saltsburg, Pa., after graduating from Ursuline. Former Irish football and basketball player Jerome Jones, now a tight end at Toledo, attended Harmony Community School in Cincinnati.
The 6-foot-3, 205-pound Turner has earned first team All-Ohio honors the past two seasons as a defensive end/linebacker for the Irish. He was ranked among Ohio's five best upcoming seniors by most recruiting services and committed to the Buckeyes shortly after last season.
But Turner was dismissed from the basketball team midway through last season and elected not to run track last spring, despite finishing second in the state in the 110-meter hurdles as a sophomore.
"We're doing everything we can to further his career," said Maughan. "We think some day this kid will probably be in the pros."
scalzo@vindy.com