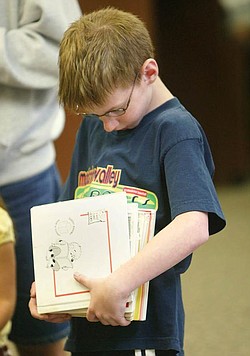 Photo
YOUNG PATRON: Nick Oblinsky, 9, of Girard does an inventory of the books he plans to check out at the Girard Free Library, 105. E. Prospect St. The library has trimmed staff, hours and programs because its funding from Libraries and Local Government Support Fund has been decreased from $1 million to $600,000 in the last eight years.
Girard library adapts in face of budget cuts
By LINDA M. LINONIS
Vindicator Staff Writer
Girard Free Library has never been so needed or so in need.
Eight years ago, the library's budget was $1 million, and now it is at $600,000, said Rose Ann Lubert, director. And, she said, more budget reductions are expected in January.
That has translated into cost-cutting measures such as laying off three part-time staff members, curtailing hours, not ordering new books and forgoing some programs. Two staff members who retired aren't being replaced.
And all this comes at a time when the library is needed by many for various reasons.
"We've never been busier," Lubert said, noting that Monday, Tuesday and Wednesday, when the library is open from 9 a.m. to 8 p.m., are the most active times.
She attributed the increased activity to various factors. Many people who don't have computers of their own are using the library's equipment to file unemployment claims, search for jobs through the Ohio Department of Job and Family Services and the One-Stop Web sites and write resumes.
"Some have never used a computer before," she said, noting that is the only way to file for unemployment claims.
The library's video and DVD collection is a boon to families whose budgets don't allow for buying or renting. She expressed frustration at some legislators in Columbus who questioned why libraries needed videos and DVDs, and the comment was made that people can rent or buy them.
"They're not in touch. ... Some people can't afford that," she said.
Lubert explained Girard Free Library is one of seven independent libraries in Trumbull County. The others are in Hubbard, Newton Falls, Niles, Bristol, Kinsman and Warren, which has branches. Their funding comes from Libraries and Local Government Support Fund. Since everyone from individuals to the government have been affected by the flagging economy, the funding source is cutting back.
Lubert said the independent libraries have a consortium of sorts, and the directors meet to discuss funding issues and cooperation with one another.
"We try to work it out so that one library in Trumbull County is open every night," Lubert said. But, she added, though a library may be open, the person needing it may not have transportation there.
Lubert said Girard was closed Saturdays in July, and that will continue through August. After Labor Day, Saturday hours will resume.
As for staff, there are 11 full-time and two part-time employees. Lubert said she and two others work 40-hour weeks, and the others work 38 1/2 hours or less.
Lubert said the library has 280,00 books that are checked out. "We have between 11,000 and 14,000 card holders," she said.
The adult program has been suspended because of the cuts. The director said adult programs featured speakers who were paid. She said it was important to try to preserve the programs for children and youths because they lay the foundation of library use. Family story time continues at 6:30 p.m. Mondays along with other sessions geared to children. For young adults, the 12- to 18-year-old group, there are special events three or four times a year.
Lubert noted that library patrons are aware of the situation and have made donations. And the Friends of the Library, which was organized some 25 years ago, provides financial support.
Diane Fossaceca, Friends president, and Melanie Lowe, vice president, both said they have been involved in the library since their children, now in their 20s, were young. At one time, both lived in Girard, and though they have moved, their allegiance to the library remains.
Fossaceca, of McDonald, described Friends as a "small but visible" group.
"The library means so many different things to people," she said. For example, she said the library gives senior citizens the chance to use a computer. "I think it opens up worlds for people."
And, she added, many students depend on the library as a resource and place to use computers.
A retired English teacher, Lowe, of Liberty, said she simply "loved the library" and thought it was important to be involved.
"At one time, we were the cupcake people," she said, meaning that the Friends provided baked goods and candy for children. "Now we're buying carpeting and computers."
But she said that Friends is devoted to supporting the library, which is considered integral to the community.
"Friends will be an advocate for the library," she said.
---
Girard Free Library
The Girard Free Library was established in 1921 and housed in the city building. In 1973, a building was constructed in a contemporary style at 105 E. Prospect St.
Hours: 9 a.m. to 8 p.m. Monday through Wednesday, 9 a.m. to 5 p.m. Thursday and 9 a.m. to 4 p.m. Friday. Saturday hours, from 10 a.m. to 3 p.m., will resume after Labor Day.
Staff: Rose Ann Lubert is director. There are 11 full-time and two part-time employees.
Fund-raisers: Ongoing book sale in the library and Friends of the Library book sale Sept. 11 and 12. "Something special in the stacks" will be March 6 and is open to all; the event features food stations in different sections of the library.
For children: Family time at 6:30 p.m. Mondays, storytime at 10:30 a.m. Wednesdays, toddler time at 10:30 a.m. Thursdays and baby time at 11 a.m. the first and third Fridays.
Friends: Friends of the Library is a volunteer organization that holds fund-raisers for the library and works to benefit the library. Individual membership is $5; family, $25; and lifetime, $100. Call the library at (330) 545-2508 for more information.
On the Internet: Web site is www.girard.lib.oh.us/