Driving a school bus presents challenges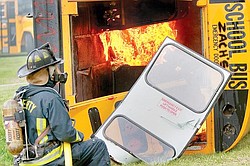 Photo
TRAINING: Liberty firefighter Chuck Wise watches the flames in an old school bus set afire as part of a training exercise. Firefighters learned where and how to cut into the reinforced buses. Newer buses have roof hatches and emergency window exits, which help in evacuations.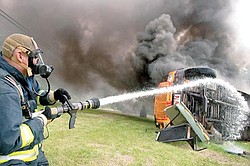 Photo
IN THE AFTERMATH: Liberty firefighter Jay Thompson waters down the undercarriage and tires of a bus set ablaze during a training exercise for firefighters and Liberty school district bus drivers. The program focused on how the two groups must work as a team in an emergency involving a school bus with students aboard.
School-bus drivers must pass written and driving tests and submit to background checks.
LIBERTY — Teachers work with their classes face to face, sometimes turning their backs to the class to write on a blackboard.
School-bus drivers must maintain order and safety and transport students in a timely manner. And they must do it with their backs to students and in a moving vehicle.
Chuck Cera, supervisor of transportation, maintenance and routes in Liberty school district, set that scene when he said, "Drivers have a class in the bus ... all behind their backs."
Cera said Liberty has 13 buses on the road, transporting some 1,200 students in kindergarten through 12th grade during the 180 days of school. He said the buses travel some 218,520 miles annually, or about 1,214 miles daily.
He said statewide requirements for drivers include a commercial driver's license (CDL) with bus-driver certification. Every six years, drivers must complete a recertification program that involves driving and written tests. In addition, drivers fall under other state and federal regulations. Drivers must submit to background checks by the state Bureau of Criminal Identification and Investigation and an FBI check. They also must participate in random drug and alcohol testing as mandated by the Federal Motor Carrier Safety Administration.
To become a driver, one must complete 15 hours of class time and 12 hours aboard the bus. Then they must pass a written test given by the state of Ohio and a driving test; that's a statewide requirement.
In Liberty, Truman Boylen, mechanic in Cera's department, is the on-board instructor and administers the driving tests.
Having the driving skills and license represents what the state mandates. But being a school-bus driver takes more than that.
"A school-bus driver has to have special qualities on a personal level. These are the first and last people connected to the school that children see on a daily basis," Cera said.
"The person has to be pleasant, patient, have common sense and be kid-friendly to stand a chance."
School-bus drivers participated in a mandatory four-hour in- service program Tuesday at Liberty Fire Station on Logan Way.
It focused on how drivers and firefighters would work as a team in an accident and also showed drivers the sturdiness of buses.
Cera said other program topics have been handling unruly students, confidentiality and coping with blood-borne pathogens.
Patty Bettura of Liberty and Joy Vass of Hubbard each had 31 years of experience as school-bus drivers. Vass retired three years ago, and Bettura, in June. Both are substitute drivers and must keep up their certification.
They addressed the stresses faced by drivers. "It was a stressful job," Bettura said. "But the good kids make up for it."
Vass agreed and added, "Wintertime driving was stressful."
Both said an important factor was to maintain order and control in the bus. "The best way I can think of is not to be too harsh. ... You have to be a friend but yet not too friendly," Bettura said. "They have to follow the rules for safety."
Fred Roth of Hubbard has been with Liberty for three years and is a substitute driver there and for Hubbard School District.
He spent 38 years as an over-the-road truck driver, retired and later "got bored."
"You have to keep law and order with the kids," he said. "You try to earn their respect and show them respect."
Roth said he thought the biggest problems facing school-bus drivers are "other drivers who aren't paying attention." He pointed out "texting and cell phones create a hazard" because drivers are distracted by them.
With most schools returning to the classrooms at the end of August, school buses also will be back on the roads.
"People have gotten into their routines and don't want to be held up by school buses. I've had them pass me on double-yellow lines. People should be concerned about children's safety," Roth said.
Kim Griffith, who has driven for six years, said the biggest challenges are "the weather and people using cell phones."
She said it was important to build a relationship with parents on the route. But she did note that children aren't as repectful as in years past.
Karen Copenhaver of Hubbard, a veteran of 27 years, said, "You have to like kids to do this." She said the in-service program at the fire station made her realize "just how well buses are made."
See also: Training session emphasizes fast action