Cox brothers combine competitive spirits
Therapy Time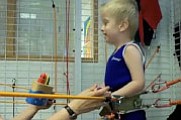 Video
Benjamin Cox receives therapy trying to isolate muscle movement.
THE COX BOYS WILL BE at it again this morning — much the way it's been for most of their 30-plus years together.
As usual, bigger brother Matt went first. Last year, he entered the Cleveland Triathlon. This year, Mike wanted in.
They say it's been this way since childhood.
With basketball, with baseball, with wrestling, with whatever game was going on either in their mom's yard in Struthers or their dad's yard in Poland.
"We could play on opposite teams fine. But if we were on the same team, we'd end up in a fight," Mike said. "If we're both going to try to do something, I always wanted to do it one better than him."
Today's not their parents' backyards, and the stakes are a lot higher than either Cox ever had in his childhood.
At stake is another childhood — Benjamin's childhood.
Ben is Matt's son, and when the two brothers — Matt, 36, and Mike, 34 — set out today for the roads of Cleveland and the waters of Lake Erie, they'll be competing to make money for United Cerebral Palsy of Greater Cleveland.
Benjamin has had five tough years of life so far, with many, many more to come.
UCP is the one place that's given him hope.
Something more is wrong
Ben was the first son for Matt and Diane Cox.
"We knew from the ultrasound that something was wrong," said Matt, a 1991 Poland Seminary High School grad who now calls Avon home.
The artery going from Ben's heart to his lung was closed off, Matt said. It also was on the wrong side of the heart.
So as Diane was giving birth to their first son in November 2003, the hospital was prepped for immediate heart surgery.
On his first full day of life, Ben was in surgery to correct his heart. At 2 months, he was struggling, so he had another surgery. And at 18 months, doctors totally repaired Ben's heart.
But all was not well with Ben, which was opposite the feeling shared by Mike and his family.
"None of us knew that it was going to cause the problems it's caused," Mike said. "Since Ben was born, we've been waiting for him to develop like normal children. He just never did."
Matt said it is clear that whatever was diagnosed and treated at birth, there was more than just a heart defect. In addition to his heart ailments, Ben had multiple other defects to the heart, kidney and brain.
"At age 3, he was a kid who could do nothing except sit up," Matt said.
Fluke and fate
Half of Ben's first 18 months were spent in Cleveland hospitals. In-home therapy was assigned through the county, and in three years, sitting up was the limit of Ben's mobility.
By fluke, Matt's sister-in-law was touring United Cerebral Palsy facilities as part of her work, and when she saw the children, she thought of her nephew.
It was immediate immersion for Ben, and the differences have been dramatic, Matt said.
"I tried for six months to get him to crawl. A UCP therapist had him crawling in two weeks. All the therapies have made him more mobile. Now he climbs, and he walks with a walker."
New life for Ben spawned new purpose for Matt, who's a lawyer. The triathlon fundraiser is in addition to being a UCP board member.
He and Diane bumped into UCP.
It wasn't handed to them.
Matt wants to ensure finding UCP happens more easily to other families.
"I spent 10 years in politics. My job was to get money or get a message out. I have the ability to ask people things that others are typically uncomfortable with. I had the desire to do what I did for a cause.
"Now I have this. It's exactly what my skills are meant to do.
I'm not a religious guy, but fate is intriguing."
Better brothers, better men
If politics drove Matt, it is Matt that drove Mike.
What drives the brothers is no secret to those around them, and it comes out when each talks of the other.
"Mike always wants to be first," Matt said. "Mike has accomplished a lot in life, and you do that if you're competitive."
"He always had a higher focus than most guys I ever knew," Mike said of Matt.
"He knew what he wanted to do in life and went and did it."
It was Matt's focus that got Mike on the right path.
"I had some years when I wandered; I had quit college. I wasn't focused. He set the tone for me to straighten myself up. I can't just be a nobody."
If Matt made Mike a better man, it was Ben that made Mike a better uncle.
"This has helped with all my other nieces and nephews," Mike said of the crew that totals seven now. He traveled to Chicago with a niece and nephew recently just so they could see the city.
"Seeing what's happened with Ben, I'm a better uncle now. It puts you in the right perspective."
It's Struthers; it's family
Mike offers an interesting take on reaching out for money in a hardscrabble place such as Struthers.
"Struthers is a close-knit town. Even if you don't care for someone, you still stick by them because they're Struthers."
That mind-set has earned more than $33,000 toward UCP in the name of Team Benjamin, the tag given to Mike's and Matt's triathlon fundraiser. The goal was $30,000.
The brothers' compete-against-anything thinking is shared by their sister, Chris Milone. She and her husband, Bob, are out of work right now, but a carwash fundraiser they had put a few hundred dollars toward Team Benjamin.
Mom and grandma are in Struthers; dad's in Poland; and they're all on Team Benjamin.
So, too, are a few hundred of Mike's closest friends on Facebook.
"Matt's amazed because he thought Facebook was stupid," Mike said, laughing about his unique outreach effort for Ben.
That effort has secured 500-plus friends of the Team Benjamin effort — and much of the money.
Accept, adjust
"We're pretty sure at this point, he'll be permanently disabled," Matt said. "I don't think he knows he's disabled. He likely will at some point. But as of now, he's a really happy kid."
Unable to speak, Ben communicates through noises, pointing and stares, Matt said.
It's not what he and Diane dreamed about when they married.
Their dream was typical: He'd be a father to a son. He'd teach a baseball swing and where to put fingers on a football.
No man is invincible — even at Matt's 6 feet 8 inches — and Matt had to pause for a minute to rise above this tough point in our chat.
"It's clear we're not going to have that," Matt said of stereotyped father-son relationship.
"But we're doing things we'd never have experienced. All of that has been beneficial. There is a trade-off, and it's been very rewarding."
Matt's inspiration comes from Diane, who manages Ben's needs while Matt escapes to work.
"She deals with this day in and day out," Matt said. "Friends are having kids and traditional kid activities, and you can't go. You just learn to deal with it."
A physical toll compounds the emotional toll.
A single therapy session for Ben can be a six-hour event for Diane. Her mom, Sophie, has sacrificed a lot for a family that also includes 1-year-old Emily.
Money and mission
The UCP does not have to provide services to Ben. And some UCPs in other cities do not serve children.
The Cleveland UCP's adult services are funded via various government agencies.
But its children services are funded completely by what families can afford to pay and balanced out by donations, said Beth Lucas, director of development.
In 2008, UCP served 1,143 people — 73 percent children.
That makes for a tricky balance. Adults make UCP money; children cost them, Matt said.
So when finances get tight, some UCP leaders will wonder if they can serve the children they do, Matt said.
"That's when I raise my hand."
So ensuring more funds come in for UCP is a lead goal for Matt, as well as ensuring UCP is there for families such as his.
"This is a personal goal because I've experienced it. I don't mind opening up what's happened to us because I don't want it to repeat for other families."
That it took three years for the Coxes to find UCP is due to Ben's not specifically being diagnosed with cerebral palsy, Lucas said.
Children who use UCP, including others from the Valley, also have spina bifida, traumatic brain or spinal-cord injuries, muscular dystrophy, autism and cognitive delay.
An uncle in your corner
Being behind someone's battle is not new for Mike. He's had a front seat for lots of battles.
There's his life as a cop for Youngstown Police Department and work on the violent-crimes task force.
There is also his role as a cornerman for Kelly Pavlik and slugging through six years of fights until Pavlik reached the top.
The most harrowing moment of that period, Mike says, is the second-round fall in Pavlik's title fight vs. Jermain Taylor. Pavlik barely survived the round, but it's now a top boxing moment given his eventual win several rounds later.
With that second round framed forever, Mike said that peril does not match his challenge of watching his nephew.
"Knowing there's a boy in there who wants so bad to be a real boy — and he can't.
"That's heartbreaking."