Canfield businessman pleads innocent to drug, porn charges
Arrest of Trent Rapp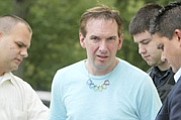 Video
Police arrested a Beaver Township man after a six-month investigation uncovered a counterfeit money operation and child pornography offenses.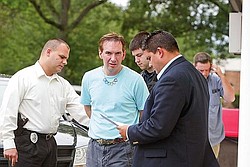 Photo
UNDER ARREST: Trent Rapp, 42, of Beaver Township, was arrested by Canfield Police at the Dairy Queen he owns on South Broad Street in Canfield. The Mahoning County grand jury handed up a 16-count indictment against Rapp on Thursday stemming from a six-month investigation into a counterfeit money operation, drug possession and child-pornography offenses.
STAFF REPORT
YOUNGSTOWN — Trent Rapp of Beaver Township has pleaded innocent to drug and child-pornography charges.
Rapp, 42, waived his right to appear before Judge John Durkin of Mahoning County Common Pleas Court during Tuesday morning's arraignment but entered his plea.
Rapp, who owns the Dairy Queen on South Broad Street in Canfield, has a discovery hearing set for Tuesday and a trial set for Sept. 21 in front of Judge Maureen Sweeney of Mahoning County Common Pleas Court.
He is also scheduled for a pretrial hearing Friday morning in front of Judge Scott Hunter of Mahoning County Area Court in Canfield on a misdemeanor forgery charge that was filed at the same time as the felony charges.
Beaver Township Detective Eric Datillo said during the police search of Rapp's home, driver's licenses were found containing false information about Rapp.
A Mahoning County grand jury had indicted Rapp on one count of marijuana trafficking, one count of cocaine possession, one count of corruption of a minor with drugs, one count of possession of criminal tools, eight counts of child pornography and four counts of pandering sexually oriented material.
Rapp's July 23 arrest and the charges were the result of an investigation that began Jan. 16 after a Canfield Police Department resource officer at Mahoning County Career and Technical Center confiscated counterfeit currency from a student. The Ohio Bureau of Criminal Identification and Investigation, Beaver Township Police Department, the Federal Bureau of Investigation and the United States Secret Service worked jointly with Canfield on the investigation. A computer also was confiscated.
Police said federal charges are pending on a counterfeit currency operation. Rapp previously told police the fake money was used in a magic act.