Heacock, Penguins are ready to go
YSU Sets Summer Practice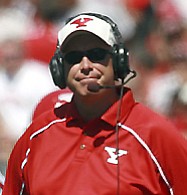 Video
YSU Football kicks off this week with practices scheduled for Thursday and Friday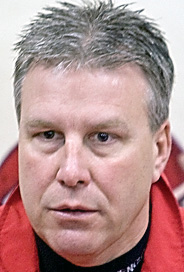 Photo
YSU head coach Jon Heacock
By Pete Mollica
They begin practice on Thursday for the season opener at Pittsburgh on Sept. 5.
YOUNGSTOWN — Youngstown State football coach Jon Heacock can't wait for the 2009 football season to get under way.
The Penguins are coming off a disappointing 4-8 season in which they were just 3-5 in the Missouri Valley Football Conference, but that season was filled with injuries and defections and both Heacock and the Penguins have put all that behind them.
Heacock, who begins his ninth season as the Penguins coach, is excited about this season for a couple of reasons.
Ever since the 2008 season ended the Penguins have been working hard to make improvements.
"Their work habits from winter on have been just tremendous, just from waking up in the morning to completing their workouts, they just want to do it," Heacock said.
"Their attitude has been unbelievable and they've shown that they want to be a good football team," he added.
The other reason that Heacock is excited about the upcoming season is the fact that for the first time since the 2000 season he will be handling the duties of defensive coordination.
"I'm excited about it and I'm just having so much fun and we'll see what that all adds up to in the coming weeks," he said.
The Penguins will begin fall drills on Thursday with a split squad session. One session will be at 9:50 a.m. and the second will be held at 4:20 p.m., both at Stambaugh Stadium.
"We still have about 20 or 25 kids in summer school and this is finals week for them," Heacock said. "Our morning session will be mostly with our younger kids and the veterans will work out in the afternoon."
The Penguins will have the same schedule on Friday, except it will be on the grass practice field.
"We are still a very young football team," he noted as the Penguins have just four seniors on defense and eight on offense. "Our depth is much better this year after what we went through last season where a lot of younger kids got to see a lot of action because of our injury situation."
"I don't think we are a veteran football team, but our work ethic has been tremendous and we come to camp in great physical condition," he said.
Heacock said that it's important for the team to build chemistry over the next few weeks.
"We've got to come together as a group," he said. "We also need to do some work on our kicking game, all phases of it. Defensively we have a new staff, while offensively it will come down to just what our quarterbacks can do."
The Penguins have been picked to finish sixth in the conference by a poll of the league coaches, which is OK with Heacock.
"Nobody really expects us to be very good, but rankings is not an issue," he added. "I'm not sure that we should have been ranked any higher.
The Penguins will open the season on Sept. 5 at Pittsburgh at Heinz Field in a 1 p.m. kickoff. They will hold their home opener on Sept. 12 when they play host to Austin Peay in a 4 p.m. contest at Stambaugh Stadium.
mollica@vindy.com