Congress will reform health care this year, Ryan, Wilson predict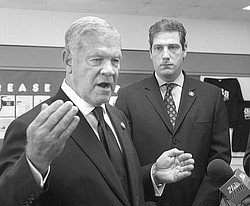 Photo
PROMOTING REFORM: U.S. Rep. Charlie Wilson of St. Clairsville, D-6th, left, advocates health-care reform during an impromptu news conference Tuesday in Youngstown. Joining him is U.S. Rep. Tim Ryan of Niles, D-17th.
Reform will end bias based on pre-existing conditions, a congressman says.
YOUNGSTOWN — U.S. Reps. Tim Ryan and Charlie Wilson told reporters that health-care reform is imperative for their constituents, and both lashed out at health- insurance companies.
"The insurance companies have been raking people over the coals," said Ryan of Niles, D-17th. "They've been denying people coverage because they have cancer, heart disease and a variety of other illnesses. They don't qualify because of pre-existing conditions. Those days are over."
Ryan said to expect these changes under health-care reform.
"You're going to get lower costs. You're going to get better-quality care, and you will not be denied coverage because of a pre- existing condition," Ryan said.
"Your doctor and you should be making your health-care decisions, not the insurance company," said Wilson, of St. Clairsville, D-6th. "They've spent over $100 million in hiring lobbyists to lobby against what's being done to reform health care," he said of the insurance interests.
"If we don't do some health-care reform to help get better where we are, our nation is going to suffer. ... It's a big project but one that we need to do," Wilson added. "We just feel that the reform has been long-needed, and it's time to push it forward."
Ryan and Wilson predicted Congress will pass health-care reform by the end of the year.
The local congressmen endorse the reform proposal in House Bill 3200, which has passed through the House Energy and Commerce Committee and still needs to come out of the powerful Ways and Means Committee.
That bill, known as America's Affordable Health Choices Act, is one of three health-care reform bills in the House, which will have to be reconciled, with a final bill likely to pass the House this fall, Wilson said.
"This reform will allow a business of 15, 20 or 30 people to get into a pool to negotiate health-care prices with millions of other people and drop costs for small business," Ryan said.
Wilson said 89,000 of his uninsured constituents would get health-care coverage under this plan.
The other reform bills are in the House Labor and Education Committee and in Ways and Means. The Ways and Means Committee will have to focus on funding health-care reform, Wilson said. "The tax part of it is the issue," Wilson added.
The congressmen, who are home during the House's summer recess, spoke at an impromptu news conference at the Mahoning County High School on Hudson Avenue, where they and about 200 other people attended a juvenile-crime summit.
"If there's any area of the country that is thirsty for health-care reform, it's our area. We've seen job loss. We've seen people lose their health-care benefits and lose their pensions," Ryan said. "They want some stability in the economy, and we're going to get it."
Hospitals will benefit from health-care reform because "they'll have paying customers now" instead of trying to shift the costs of charity care to other patients and their insurers, Ryan added.
"We really, sincerely and genuinely want to do the right thing for the people that we represent," Wilson said.