Peace Race Tips: Water, water everywhere!
Peace Race Training Tip #2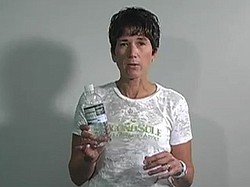 Video
Peace Race president Jenn Wohlgamuth gives a training tip for runners.
Week 2:
HYDRATION…WATER,WATER EVERYWHERE!
Congratulations! You made it through your first week you must be feeling very proud of yourself…you should be. Let's talk about the single most important thing that you can do for your body. Let's talk water. Being adequately hydrated effects every muscle fiber in your body. It effects every hair follicle and it effects every organ. Especially your skin. Did you know that being properly hydrated even effects your ability to lose weight? How much water do you need? Let's say that you should be drinking at least 48-64 oz of water a day. When you are running you should never feel thirsty. Being thirsty is the first sign of dehydration. Carry a hand-held bottle or wear a belt on your runs to be sure that you have your water at your beckon call!