In Focus: Beautiful reading environment
IN FOCUS: Poland Library

Video
A view of the facade of Poland Library, August 2, 2009.
Poland Library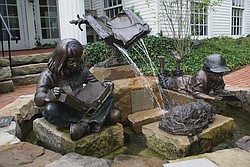 Gallery
The man who does not read good books has no advantage over the man who cannot read them." Mark Twain
Story and photos by
NATHALIE TAGHABONI
Special to the Vindicator
A visit to the Poland library should start off with a leisurely walk around the property. At the very front, there are sitting areas and a delightfully expressive fountain by artist Tom Antonishak titled "Fountain of Knowledge."
Just a few steps to the left of the fountain, there still stands the historical Poland Union Seminary Dormitory. The seminary's most famous student was William McKinley (1843-1901), 25th president of the United States.
Too often, we destroy the old to make room for the new and thus lose the best part of ourselves, so it was unusually sensitive that the designers included the old dormitory in the design of the new site.
Around to the left of the fountain is a stone stairway leading down to Yellow Creek. At the foot of the stairs, you can trek right across a tiny, wooden bridge under Main Street or turn left to stroll along the creek side of the building.
The library building itself was designed to allow in as much natural light as possible, with broad windows and exit-only doors all the way around. The main entrance brings you to the Chapters Caf to the right and a tiny sitting area to the left. A wooden staircase to the extreme left takes you up to the library proper, and the corridor ahead leads you to a fully outfitted meeting room and the bookstore.
The original Poland library was dedicated in 1935, a small room at the Town Hall with a collection of 1,377 volumes. In 1941, the library moved to a larger room in the Town Hall, then moved again in 1962 to the north side of the historic Kennedy House across the street from the current site.
The 311 Main St. site was first built as a colonial-styled building in 1965. The new building, a monument to ingenuity, is made almost entirely of recycled material and outfitted by local craftsmen. It houses more than 70,000 items.
As with almost everything these days, our local libraries have felt the pinch of economic downturns and budget cuts. Still, few things can rival a quiet corner of the library, a comfortable chair and a good book. In fact, now more than ever, this respite and escape into a good book might be just the thing to hold at bay the concerns that surround us.