Warren hip-hop musician works off fine in Grohl Alley
David Grohl Alley dedication ceremony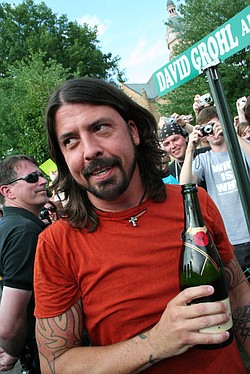 Gallery
David Grohl Alley Dedication in Warren

Gallery
8.1.2009 Famous Musician, David Grohl of the Foo Fighters, performs at the dedication of an alley bearing his name in the city of Warren, OH, where he was born.
WARREN — Rock star David Grohl's visit to Warren Saturday had special significance for Jacob Robinson, 18.
The young Warren man had gained public notice for his work on David Grohl Alley which was named for the singer/musician and painted to represent his career.
Robinson said he got arrested for riding his skateboard on a public street and was also accused of assault on a police officer.
He said he spent 45 days in incarceration and still had a fine to pay when he got out.
He learned about the work being done on the alley, and, as Grohl is one of his favored artists, volunteered to help, keeping the alley clean of debris and assisting the artists from Trumbull Art Gallery who were doing the painting.
Robinson said when Warren police Sgt. Joe O'Grady learned what he was doing, O'Grady, credited as the driving force behind the plan to honor Grohl, spoke to the judge in Robinson's case who agreed to let him work off his fine in the alley.
Robinson said he got his reward by getting to spend some time with Grohl, who had asked to meet him, Saturday before Grohl was honored with the alley dedication.
Grohl, who was born in Warren, autographed Robinson's skateboard, his ballcap and even the backstage tag hanging from his neck.
Robinson said the rocker also agreed to listen to some of his music when he gets the chance.
"I do hip-hop," Robinson said.