Foo Fighter gets rousing homecoming in Warren
The rock star thrilled the crowd, performing three songs and taking a turn behind a set of drums.
By HAROLD GWIN
VINDICATOR STAFF WRITER
David Grohl Alley Dedication in Warren

Gallery
8.1.2009 Famous Musician, David Grohl of the Foo Fighters, performs at the dedication of an alley bearing his name in the city of Warren, OH, where he was born.
David Grohl Alley dedication ceremony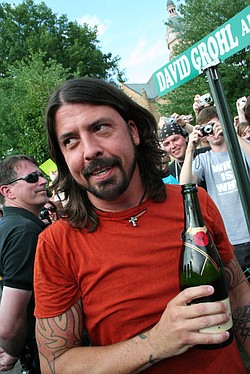 Gallery
WARREN — It's one thing to have a street named after you, but Rock star David Grohl says it's something else to have "a community of musicians turn out" for an event.
"I had to come," said the frontman and guitarist for the Grammy-winning Foo Fighters rock band, shortly before he was presented with the Key to the City of Warren and had an alley named in his honor Saturday.
"It's such a huge deal," said the rocker who first drew fame as drummer for the band Nirvana. He thanked the community for the honor bestowed upon him and his family.
Warren greeted him like a native son.
Grohl was born in the city in 1969 but moved away as a small child.
But he said he's always come back to Trumbull County on a regular basis.
His father, Jim, and stepmother, Renie Grohl, still live here.
Grohl, who said he was vacationing on the East Coast, flew into the area Saturday morning with his mother, Virginia, and had a chance to visit David Grohl Alley, formerly Market Street Alley, before arriving at the ceremony.
He took the time to introduce all three of his parents to the crowd of hundreds who had gathered on the Trumbull County Courthouse lawn to witness his appearance, the culmination of the week-long Music Is Art Festival in downtown Warren.
"When I was a kid, I used to love to come here," Grohl told the crowd. "This is one of my favorite places in the world."
He lives in the Los Angeles area now but told The Vindicator that he used to come back to the area every year as a child while his grandparents were alive. He said he was back a couple of times over the past year.
The crowd grew throughout the afternoon as people arrived to listen to area bands taking the stage as they awaited Grohl's arrival.
He reached the stage just as the band Love Turns Hate was in the midst of its set.
Grohl didn't intervene, but took a seat behind a set of drums and backed the band through two songs, much to the delight of the crowd, which roared its approval.
Doug Franklin, city director of public safety, had the honor of presenting Grohl with a token of the city's appreciation, telling the rocker, "You already have the key to our hearts, and, to top that, I'm going to give you the key to the city."
"It means a lot to me. "I'm very, very proud to have this, and you guys," Grohl told the crowd, asking jokingly what the key might unlock.
He then treated the crowd to three songs, accompanying himself on the guitar, and it was clear those listening knew the words to "Times Like These," "My Hero" and "Everlong" as they sang along with him.
Grohl dedicated "My Hero" to Warren Sgt. Joe O'Grady, who is credited with being the driving force behind the effort to honor Grohl. It was a process that took two years, O'Grady said.
When Grohl finished his performance, the David Grohl Alley sign was ceremoniously unveiled in front of the bandstand, and Grohl saluted it with a bottle of champagne.
The event drew rock aficionados both old and young.
Lisa Milone, 47, and Cliff Carpenter, 47, of Warren were there, arriving just before Grohl took the stage.
"I wasn't sure he was going to show," said Milone, an admitted David Grohl fan, in explaining her late arrival.
"It was worth it," she said. Both she and Carpenter said "My Hero" is their favorite Grohl song.
Brynna Schobel, 5, and her brother, Zander, 7, where there as well, having arrived in a wagon pulled by their father, Rick Schobel of Austintown.
The kids, equipped with ear protection, had a front row seat directly in front of the bandstand.
"It's a once-in-a-lifetime experience for them to see something like this in their hometown," Schobel said, explaining why he brought them to the show.
Brynna, beaming with excitement, and Zander, a bit more subdued, said they liked the event and thought Grohl did a good job.
David Grohl Alley has been painted by the Trumbull Art Gallery artists to honor his career, and Jennifer Campbell of Main Street Warren, the group sponsoring the event, said the alley will continue to evolve as Grohl's career grows.
gwin@vindy.com
SEE ALSO: Warren hip-hop musician works off fine in Grohl Alley.
More like this from vindy.com