Mayor Williams has earned re-election; work to be done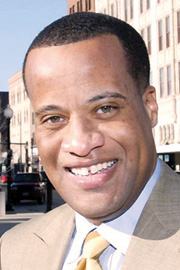 Photo
Youngstown Mayor Jay Williams
Department Evaluations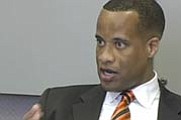 Video
Jay Williams discusses the problems facing various city departments.
Mayoral reflections

Video
Mayor Jay Williams reflects on the past four years and what he would like to accomplish if given another four year term.
When we made note of the historic nature of Jay Williams' victory as mayor of Youngstown in November 2005, we said that he had won what could be the second-hardest job in the United States. Three years-plus later, we still think that leading the largest city in the Mahoning Valley is an undertaking not for the faint-hearted or the politically weak. But, with Williams at the helm, the fiscally challenged city of Youngstown has a chance of beating the odds and becoming vibrant again.
Since taking office in January 2006 as the first black mayor of Youngstown and the first independent candidate to win in more than 80 years, Williams has been aggressive in dealing with such seemingly intractable problems as crime, especially homicides, deteriorating neighborhoods, a shrinking tax base and an operating budget dripping red ink.
While his tenure thus far has provided mixed results, he has earned re-election to a second four-year term beginning in January 2010. Williams faces a challenger in the Democratic Party primary May 5 who chose not to be interviewed by The Vindicator and did not accept an invitation to appear before the editorial board. For that reason, we have nothing to say about Frank Bellamy.
But even if Bellamy had reached out to us, we would have been hard-pressed not to endorse Mayor Williams for re-election. Indeed, the absence of substantive primary opposition and a Republican challenger — the deadline for filing as an independent is May 4 — is a clear indication of the incumbent's political strength and the depth of his record in office.
In his interview with Vindicator editors and writers, Williams was refreshingly honest in his appraisal of his performance thus far and also that of a key member of his cabinet, Police Chief Jimmy Hughes.
By giving Hughes a grade of B-minus/C-plus, the mayor acknowledged there is much work to be done to end the cycle of violence that has turned many neighborhoods into war zones. Although there has been a reduction in overall crime and a decrease in the number of homicides, the fact remains that Youngstown has the distinction in the Mahoning Valley of having the highest crime rate.
Mayoral grade
That factor has served to undermine Williams' efforts to establish close working relationships with suburban communities. Perception often becomes reality. Incidentally, the mayor gave himself a grade of B-minus/C-plus.
There have been some missteps, such as his handling of the Joint Economic Development District initiative with Austintown and Boardman townships.
The perception in those communities is that the city is trying to use water as a hammer, rather than a bargaining chip, and that the proposal to apply an income tax to companies already operating in the townships is a non starter.
Williams says he has not given up on the JEDD initiative but that he will adopt a new strategy for winning over the trustees and residents in Austintown and Boardman.
The $1 billion proposed V&M Star Steel expansion project is an example of the cooperation between communities that must take place for regional economic development to be successful.
The cities of Youngstown and Girard have joined forces, and if the V&M expansion becomes a reality, Williams and Mayor James Melfi will be deserving of the Valley's applause.
There's no doubt that the rest of this year and the next four years of Williams' second term will test his abilities as a manager and a politician. He will have to find ways of dealing with the imploding operating budget — a reduction in employee costs is inevitable — as well finding new sources of revenue.
Job creation must remain a priority for the city. In addition, new goals for the city's development blueprint called Youngstown 2010, which Williams was actively involved in creating, need to be established.