Covelli name to be center of attention in 3-year pact
The new Covelli Center


Video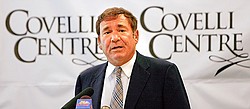 Photo
Sam Covelli expresses his excitement for upcoming events at the newly named Covelli Centre, including 10 family shows, four rock concerts and others. At a media conference Wednesday, Youngstown Mayor Jay Williams, right, announced the name that replaced Chevrolet Centre.
377 Boardman Poland Road, Boardman Township
A Warren-based restaurant chain owner's name will replace Chevy's name.
YOUNGSTOWN — Concerts, family shows and sports events will still be making their way to Youngstown, but ticket stubs will no longer read Chevrolet Centre.
As soon as June 1, Chevy Centre signs will be wiped away and replaced with the new Covelli Centre signs, said Eric Ryan, the center's executive director.
At a media conference Wednesday, Ryan and Youngstown Mayor Jay Williams announced the details of the naming-rights deal with Sam Covelli, president and chief executive officer of Covelli Enterprises.
The naming-rights contract with Covelli Enterprises is a three-year deal for $120,000 annually.
"The contract is very good — no bells and whistles," Ryan said, adding, "Covelli just wanted a naming-rights contract."
With the GM contract, though it was for $175,000 a year, part of that was deducted for suites and tickets, and the center paid 100 percent of the signage costs.
With all those expenses taken out, the revenue is on the same level, if not better, with the Covelli deal, Ryan said.
"This contract will be $120,000-a-year net to the center, no additional expenses," he said.
It was reported that Bruce Zoldan, owner of the B.J. Alan fireworks company and the Mahoning Valley Phantoms hockey team, had offered $140,000 annually for five years for the center's naming rights in Wednesday's Vindicator.
Ryan corrected that number, saying that Zoldan also offered $120,00, but like the GM deal, money would have been deducted for suites, tickets and other requests.
"We're actually further ahead [with Covelli]," Ryan said, adding, "The money is important, but it's the additional marketing availability; the co-promotion."
Covelli owns 145 Panera Bread franchises, as well as four O'Charley's Restaurants, many within 90 miles of Youngstown.
The cross-marketing opportunities are unlimited, Williams said, adding more than 80,000 patrons visit Covelli's stores each month.
"We'll do whatever it takes to promote the center," Covelli said.
Though Covelli has had immense success, Williams said, it's important to note that "community involvement is the backbone of his business."
"Mr. Covelli is a very astute businessman and wouldn't invest in something he didn't believe in," he said.
Covelli echoed those remarks, saying, "This facility will be one of the most positive things for the Valley in the years to come. If I didn't believe that, I wouldn't be here."
This year, Covelli Enterprises is celebrating its 50th anniversary in the Valley, and Covelli said his headquarters, located in Warren, aren't moving anywhere else.
"This is the best time to be part of the future success of the Valley and the facility," he said. "There's always going to be new things coming around, and I just hope the Valley continues to support the events."
"Today is a testament that we've brought more local involvement [to the center]," said Ryan, noting that Zoldan's involvement is still key to the success of the facility.
Zoldan's going to own a United States Hockey League team that will play its home games at the center next season.
The USHL is the top junior hockey league in the country, and Ryan said the details of long-term hockey plans could be announced as early as next week.
"Bruce Zoldan has an extreme passion for hockey but a bigger passion for Youngstown, and with that passion, success will follow," Ryan said.
More like this from vindy.com