Covelli gets naming rights to Chevy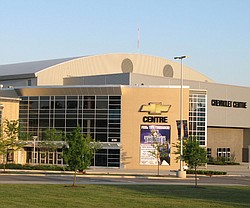 Photo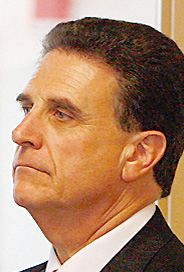 Photo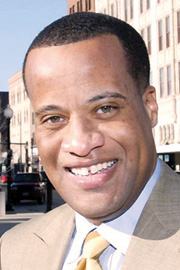 Photo
Youngstown Mayor Jay Williams
The terms of the contract will be disclosed today.
YOUNGSTOWN — The city-owned Chevrolet Centre is getting a new name today.
The city will announce today that it's reached a deal with Covelli Enterprises to name the facility after the Warren-based restaurant franchisee, sources say.
The terms of the contract and the name of the center will be disclosed at a morning press conference at the facility's community room.
Covelli owns 134 Panera restaurants and three O'Charley's restaurants, according to the Restaurant Finance Monitor, a publication that follows the restaurant franchising industry. The publication's 2008 Top 200 Restaurant Franchisees report, released Tuesday, lists Covelli ninth on the list with $320 million in revenue last year.
Because Covelli is a franchisee of the two restaurants and not the owner of either, the company will use the name "Covelli" rather than "Panera" or "O'Charley's" in the center's name, sources say.
Sam Covelli. president and chief executive officer of Covelli Enterprises, couldn't be reached Tuesday to comment.
Youngstown Mayor Jay Williams and Eric Ryan, the center's executive director, declined to comment Tuesday on the naming rights deal except to say details would be provided today.
The center will quickly change its Web site, e-mail addresses and numerous Chevrolet Centre signs to reflect a new name, Ryan said.
"We're already working on it," he said. "It's a very time-consuming deal."
Because of steep financial losses in a struggling economy, General Motors didn't renew its contract for the naming rights when a three-year deal expired Sept. 30, 2008.
GM paid $175,000 in cash annually and provided four vehicles a year to the city for the naming rights.
The city didn't change the center's name during the past seven months as it negotiated with a number of different businesses in the area.
The city received a proposal from Bruce Zoldan, owner of the B.J. Alan fireworks company and the Mahoning Valley Phantoms hockey team that played most of its home games at the center, for the naming rights.
Zoldan had offered $140,000 annually for five years for the center's naming rights.
While Zoldan lost out on the naming rights, he's going to own a United States Hockey League team that will play its home games at the center next season.
The USHL is the top junior hockey league in the country. The Phantoms play in the North American Hockey League, also a junior league, but not considered by hockey experts on par with the USHL in talent.
skolnick@vindy.com