USHL awards team to Zoldan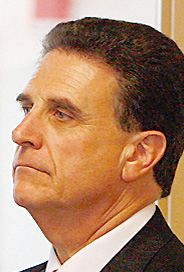 Photo
GRAND FORKS, N.D. — The United States Hockey League announced on Monday that it has awarded an expansion membership to Youngstown businessman Bruce Zoldan for the 2009-10 season.
The new USHL team will play at the Chevrolet Centre as a member of the USHL's Eastern Division.
Team USA, representing the National Training Development Program in Ann Arbor, Mich., will also join the USHL Eastern Division, giving the league 14 teams for next season.
Other teams in the East Division this season were Green Bay, Wis.; Cedar Rapids, Waterloo and Des Moines, Iowa; Bensenville, Ill. (a suburb of Chicago) and Indianapolis, Ind.
Teams in the West Division represented cities in Lincoln, Kearney and Omaha, Neb.; Fargo and Sioux Falls, S.D., and Sioux City, Iowa.
The announcement had been expected for about two weeks, but was put off by the league and Zoldan because his current team, the Mahoning Valley Phantoms of the North American Hockey League, were competing in the league's playoffs.
The Phantoms begin play in the NAHL's Robertson Cup Championship today in Mason City, Iowa.
However, planning for the 2009-10 season forced the league to make the announcement now.
"The sole purpose of this announcement at this time is to confirm and put into place the procedures necessary for the USHL to conduct an expansion draft according to its rules and regulations," said USHL commissioner Skip Prince in a statement released by the league.
"Out of respect for our partners in hockey at the North American Hockey League, and in order not to take away from attention to the Robertson Cup and Mr. Zoldan's Mahoning Valley Phantoms, we will defer any further details about expansion until the completion of the Robertson Cup and the NAHL season."