Hungry for those Idora french fries? Then don't miss Spring Thing 2009 today at Mill Creek Park.
By HAROLD GWIN
VINDICATOR EDUCATION WRITER
Wild Cat Memory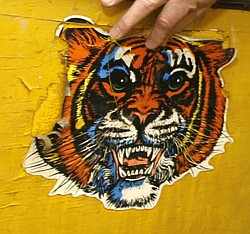 Video
Remembering Idora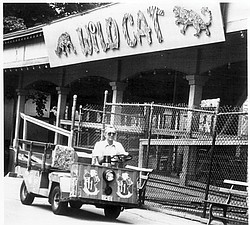 Gallery
SOMETIMES ON A HOT summer night — if you close your eyes real tight and concentrate — you can almost hear the roar of the roller coaster and sounds of the midway and even smell the french fries cooking at Idora Park.
In reality, the park is long gone, but its memory still burns bright for some, including David Price of Schenley Avenue.
He's an avowed Idora Park aficionado and has the pictures and memorabilia to prove it — including a 780-pound car from Idora's Wildcat roller coaster.
It was 25 years ago Sunday that a major fire severely damaged the Wildcat and part of the park's midway.
The park closed forever at the end of that 1984 season, and Price believes now is an appropriate time to bring back some of the fond memories people have of Idora.
He, his fiancée, Susan Walters, and his mother, Mary Price, have organized "Spring Thing 2009" today at Bears Den Cabin in Mill Creek Park to relive some of the park's glory days.
Even the name "Spring Thing" harkens back to Idora's heyday when, on opening day every year, the park would hold a "Spring Thing," Price said.
It's open to the public, and there will be a large display of memorabilia, carousel music, videos, balloons and more.
The organizers will be popping corn, grilling hotdogs and burgers, serving pop, and, most importantly, cooking french fries per the original Idora Park recipe.
Walters said she has been working on perfecting that recipe and has it down pat.
Everything is free, but donations will be accepted.
Those with their own photos of the park should bring them along, Price said, explaining that they will be copied and added to the archives of www.idorapark.org, a Web site dedicated to the preservation of all things Idora Park.
Price said he's expecting a big crowd for today's event, noting that he's received inquiries from people as far away as Toledo, Akron and Pittsburgh.
Price said he went to the park many times as a child and recalled that it was the spring of 1979, at the age of 14, that he, older brother, John, and neighbor Lars Gould walked into the park office and asked for jobs.
They were too young to operate rides or work in the concession stands, but they were given the job of performing as the "Idorables," the park's chipmunk, rooster and rabbit mascots.
David, the youngest and smallest, fit into the chipmunk costume, he recalled.
It was a cool gig, he said, as the mascots only had to walk around the park to greet visitors once every half hour. The rest of their time was spent riding the rides for free and gorging themselves on food from the midway, he said.
David spent the next two seasons working at odd jobs in the park but moved to Cleveland in late summer 1981.
He was still living there when he got word of the devastating 1984 fire.
"I never wanted to see the park after the fire. I guess I didn't want to face reality," he said.
It wasn't until just four years ago that he returned to the view the park site. It was all gone by then, he said, with only the footprints of the building still visible. The site is now owned by Mount Calvary Baptist Church.
Many people have very fond memories of Idora, he said, adding, "I'm just trying to do something this weekend to remember the park."
"It's his hobby," Mary Price said of her son's interest in the park. "He even has a car from the Wildcat."
Price, who works for WKBN radio, said he bought the last car to the yellow Wildcat train just a couple of years ago from a man who had all of the cars.
It's sitting in his workshop now, and, because of the difficulty moving it because of its weight, won't be a part of today's display at Mill Creek Park.
"I rode in this car many times," he said, pointing out the spot in the back seat where he frequently bumped his ribs on a sharp turn. "The padding's all worn out here," he said, thumping the side cushion.
gwin@vindy.com
If you go
Idora Park remembered
Idora Park fans will have a Spring Thing 2009 remembrance of the once popular amusement park.
When: 5 to 9 p.m. today.
Where: Bears Den Cabin in Mill Creek Park off Old Furnace Road.
Refreshments: Free food.
Miscellanenous: People are asked to bring any photos and memorabilia they might have.