Boardman family retools lifestyle to factor in joblessness
Looking For Work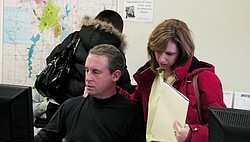 Video
Unemployed Boardman, OH residents Cheryl and David Bishop look for jobs.
By Denise Dick
The Bishops spend a portion of each day searching the Internet for jobs.
BOARDMAN — If neither Dave nor Cheryl Bishop finds a job by next week, they'll apply for food stamps.
Neither expected to find themselves in this position.
"You hate to do that, but you do what you have to do," Cheryl Bishop, 43, said.
After 21 years at Circuit City, she lost her job when the company shut down. March 10 marked her last day.
When Dave's last position ended, Cheryl was traveling a lot for her job, and he decided to stay home with the kids and work on a house he bought to fix up.
Both have been job hunting since word of Circuit City's difficulties started circulating. Dave, 50, is looking for a middle-management post, and Cheryl is searching for another retail-management job. Both hope for positions that pay reasonably well, and neither is interested in sales positions.
Each has some irons in the fire.
They registered their children for free school-lunch programs to cut costs.
Dave and Cheryl spend a significant portion of their day searching Internet job posts. Cheryl keeps a job search folder on her desktop that contains several job searching sites from Monster to Indeed to AllRetail.
They know other families in similar situations. It's good to know they aren't alone, Cheryl said, but it also indicates how bad things are.
She spent about four jobless months several years ago after moving. And Dave also spent an eight-month and a three-month stint on unemployment many years ago. But this is the first time they've both been without a job at the same time.
"Hopefully, it's the last," Dave said.
Cheryl began receiving unemployment benefits about two weeks after receiving her last pay check. If she doesn't find a job by the middle of next week, she's to go to a half-day class sponsored by the Ohio Department of Job and Family Services that may offer some tips.
Dave didn't expect it to take so long to secure employment.
They've already cut back on household expenses, buying only what's on sale, poring over ads to find the best deals.
"We have food down to between $10 and $15 a day," Dave said.
Both admit the occasional funk.
"The good thing is that we haven't been in a funk on the same day," Cheryl said.
Keeping a positive attitude comes more easily when they have interviews and second interviews scheduled.
"You have hope," she said.
They still do activities together as a family, they're just things that cost nothing or very little. If they want to see a movie, they go to the $1 theater, for example.
During spring break, the family usually takes a big trip together. This year, they scaled it back, spending part of the time with Dave's family near Columbus and part of the time with Cheryl's sister near Easton, Pa. A portion of the Easton trip included a tour of sites in New York City.
Dave urges anyone who hears about an inkling of a problem at their company to prepare.
"Do what you can to cut back ahead of time," he said.
He also stockpiled food.
"Our lazy Susan is full of canned goods, and our freezer is probably three-quarters full," Dave said.