Pointing blame for violence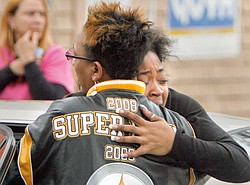 Photo
A lady is comforted at a man at the scene says a prayer as police investigate shooting on the Youngstown's east side at Shehy and Bruce left one dead at the scene and a second person taken by private car to St Elizabeth Health Center and was reported to be in critical condition
East Side Shooting Leaves 1 Dead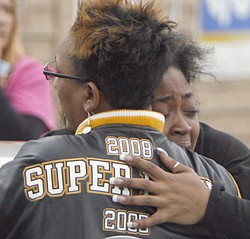 Video
A shooting at Shehy and Bruce leaves one dead -
F & N Market shooting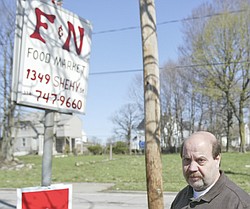 Video
A shooting at Shehy and Bruce leaves one dead: F & N Market
Mayor, chief of police take aim at F&N Food Market after city's latest homicide.
By KATIE SEMINARA
Vindicator Staff Writer
YOUNGSTOWN — The owner of the F&N Food Market rejected city officials' calls for his longtime East Side grocery store to be shuttered.
"There is no problem with the store," said Fadel Samad who has owned the store on the 1300 block of Shehy Street for 28 years. "The customers like me, and I like my customers."
On Wednesday, Tommy D. Jones, 32, of Gypsy Lane died after being shot four times near the market. A second victim, 23-year-old Mister Jackson of South Jackson Street, also was shot and was last reported in critical condition at St. Elizabeth Health Center.
After the shooting, Police Chief Jimmy Hughes said, citing the problem of loiterers, "Shutting down the store and ridding the neighborhood of that store will be a priority."
On Thursday, Mayor Jay Williams and Councilman DeMaine Kitchen, D-2nd, joined Hughes' call.
"Based on what I do know and what I've been hearing, I think there's enough evidence to declare the business a nuisance," Williams said of F&N Market.
But Samad said no one loiters in front of his store; they do so on the vacant property next door.
"I can't tell them to move; it's city property," he said, adding the police rarely stop when they drive through the neighborhood.
"When do the police come? When you have blood in the street. Why don't they do something before that?" he asked.
Police said Thursday they have logged nearly 80 911 calls since 2002 concerning the store.
The calls were for a variety of criminal activity including gunfire, drug activity and fights.
On April 1, police were called because the store was broken into, and cash, cigarettes, cigars were taken. An ATM machine in the store was pried open and $1,500 was taken.
Wednesday's homicide, the city's eighth this year, elicited new calls for action from residents and city officials.
"We're not looking to drive businesses out of the city. However, for the ones that attract crime, we're prompted to take action," Williams said.
"If we don't make the hard decisions, we'll live and deal with the same problems," said Kitchen adding, "sometimes if you want growth, you have to prune."
But Samad said his store isn't causing the crime.
"The store never sells any drugs, has no violations and no minors buying [alcohol or nicotine]," Samad said.
The store owner is current on his property taxes, and the city health department says there have been no health-code violations at the store in the past year. Health Commissioner Neil Altman did note that a back wall was damaged during the April 1 break-in at the store in which $10,000 worth of cigarettes were stolen.
On the other side of the vacant lot next to Samad's business is Mayra Espada's Saborico's Corner Market and Cafe.
"We don't let people stand in front of our property," Espada said.
Espada agreed the businesses can't tell people loitering on the vacant lot to move. Police will drive by and the crowds scatter, but then return when the police are gone, she said.
Espada would like to purchase the vacant lot between her market and F&N to eliminate loiterers. If she gets it, a fence will go up, and it will be marked private, she added.
One East Side resident, who asked not to be identified, said people are always "hanging around" Samad's store.
"I'm sure the store owner told you nothing's going on, however, the people who live in this area know better," the resident said adding, the neighborhood is hopeful the city will succeed in getting the place shut down.
"I can guarantee you, until he shuts down, the crime will continue," the resident said.
That view is shared by Hughes and others.
"The store has to close. I don't know how to take it any more seriously," the chief said.
Kitchen agreed, saying it's time for neighbors to step up and help police.
"I know there's a fear, but people shouldn't just settle and accept where they live," he said, encouraging East Side residents to get involved in block watch groups, city programs and with the YPD.
"If you want to take back the neighborhood, you need to get vocal," Kitchen added.
There have been no arrests in Wednesday's shooting, and police are struggling to find leads, said Detective Sgt. Pat Kelly.
"We are bringing in some people for questioning," Kelly said. "That area has been the scene of many homicides and other criminal activity."
St. Elizabeth would not provide an update on Jackson's condition on Thursday.
kseminara@vindy.com
History of violence, crime
The Shehy Street location of Wednesday's homicide on the city's East Side, at right, is no stranger to criminal activity.
May 2000: Charise Harmon, 25, was shot and killed by Danielle Kramer, after the two women got in an argument after a traffic accident. Harmon opened her car door just as Kramer drove past the F&N Food Market on Shehy Street. Kramer's car hit the door and knocked it off. Harmon confronted Kramer. A struggle ensued, resulting in Kramer fatally shooting Harmon.
May 2001: John Perdue shot and killed 21-year-old Raymond Ortiz. Police said the two had argued over a $5 bet in a craps game behind a Shehy Street market. Perdue argued it was self defense.
March 2005: A drive-by shooting in front of a market on Shehy Street killed 32-year-old Martin Walker III, who was shot in the lower abdomen. Walker was shot by Charles Lynch, who pleaded guilty in January 2007. Three eyewitnesses of the shooting, who could have testified had Lynch gone to trial, became homicide victims in the 22 months between Walker's death and Lynch's guilty plea.
September 2005: Fadel Samad and Nabil Samad, owners of the F&N Food Market on Shehy Street, were charged with illegal use of food stamps for Women, Infants and Children program benefits, telecommunication fraud and possessing criminal tools. Fadel Samad is the current owner.
April 2009: Fadel Samad reported his store had been broken into, and cash, cigarettes, cigars were taken. An ATM machine in the store was pryed open and $1,500 was taken.
Sources: Vindicator Files, Youngstown Police Department