Hundreds use tax day to protest federal spending policies
Youngstown TEA Party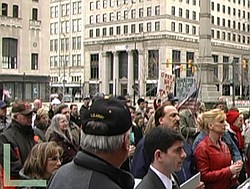 Video
Area residents came together April 15 for a Tax Day TEA Party on Federal Avenue in Youngstown as a protest against taxes and other issues. The Youngstown-area protest was coordinated by the YSU College Republicans.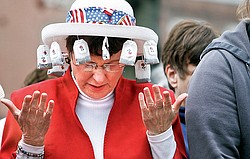 Photo
Pat Eccleston of Lisbon prays in Lisbon Square for Lisbon's Tax Day Tea Party to protest Washington's "socialist" direction.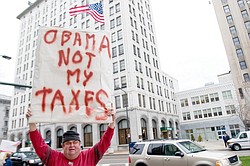 Photo
Richard Ellis, of Youngstown, participates in a Tea Party, standing for Taxed Enough Already, on Federal Plaza in downtown Youngstown on Wednesday afternoon.
By JON MOFFETT and JEANNE STARMACK
TEA (Taxed Enough Already) party protests took place in Youngstown, Warren, Lisbon and Sharon.
During a downtown Youngstown TEA party, James Carnahan made it known that the Mahoning Valley will survive if another major industry collapses.
He was one of about 200 people to attend a TEA — an acronym for "taxed enough already" — party on Central Square.
"When the steel industry was devastated, the industry was gone, but the area survived," Carnahan said, referencing the possible loss or downsizing of General Motors. "The area shrank, but the area survived. You don't want to see it happen, but it's not the end of the world."
Carnahan, 68, of Campbell, expressed his displeasure with the federal government stepping in to help the ailing auto industry, including the removal of then-GM CEO Rick Wagoner. Carnahan said President Barack Obama's imposition on the auto industry is unwarranted and a bailout is unnecessary.
The downtown demonstration — and others like it across the country — was organized to give voice to frustrations with government spending.
Similar demonstrations saw about 300 people in Warren and 500 in Lisbon.
Carnahan used a bailout of GM as an example of frivolous spending.
"People keep thinking this bailout is going to save Lordstown," he said. "There's nothing that says in the long run if General Motors survives, that as a company they have to keep the [Cruze] in Lordstown. There's nothing stopping them from building it in Canada, Mexico or China. There is no guarantee."
Lordstown was just one example of federal funding that upset many area residents.
Don George, 57, of Boardman, said he was simply frustrated with government spending as a whole.
"I expect Washington [D.C.] to be better stewards of our money, and in my estimation that hasn't been happening" he said. "The [Nathaniel R. Jones Federal Building] down here, which is one of the top 10 in the nation in terms of energy efficiency, now will be receiving $700,000 to improve it when we have municipal buildings here in Youngstown that need desperate help. It's a waste of my tax dollars and everybody else's tax dollars."
Protesters made it clear that no party is being held responsible and that the problem isn't new. George Misek, who is retired, of Austintown said the problem has been growing for years.
"Ideally, we would get back to a nation under God, we would get back to our Constitution, and get away from all the baloney that's been going on for the past 40 or 50 years," he said. "I'd like to see the government quit spending money [it doesn't] have.
"What we have to do at home when we get in financial problems is cut back, and the government doesn't seem to understand that. We have a government who has ruined this country, and they seem to think they can fix that."
Carnahan also took aim at taxpayers blaming them for the economy and for government spending.
"[President Obama] is just a product of the system," he said. "Everybody wants the government to give them everything, and it's taking away our freedoms. What people don't realize is that for all these bailouts, someone has to pay for them."
In the Warren demonstration, Bill Johnson of Warren challenged taxpayers to write to or call their representatives and demand fair use of their money.
"Our forefathers didn't take a vote, and they didn't take a poll. They took action," he said.
At the State Street bridge over the Shenango River in Sharon in Mercer County, about 200 people gathered at noon to protest.
Their signs said it all: "Where's MY bailout?" "Stop Waste." "We, the People." "Congress, You're Fired."
At the tail end of the group, which spilled off the bridge and curved down Shenango Street, Linda Zembower stood with her son-in-law, Bob Ponziani, and her granddaughter, Caitlin Ponziani, 11.
The family had come from Enon Valley, Pa.
"It's not right," Zembower said about government bailouts of banks and car companies.
"I don't know," she said, when asked what a good alternative would be.
"Bankruptcy? If they all go down, then let the little guy build up," she said. "No one's bailing us out. We're the ones paying for everything."
The protest was organized by Patriots in Action, a group with about 60 members that is based in Sharon, said its president, Sue Brei.
The group appeared to bend to the conservative side, with one speaker touting his "Judeo-Christian values." Another urged the crowd to make sure to listen to conservative radio talk-show host Glenn Beck.
Brei said, though, that the group is nonpartisan, with Republican, Democrat and Libertarian members.
"We support our troops," she said, when asked how the group feels about the war in Iraq. But, she said, there is room for people who believe the war should end.
Brei said her group and the larger, national movement of TEA parties want to win back the nation's sovereignty.
"We aren't happy with overspending and overtaxation," she said.
"We believe in the Constitution, and government doesn't have the right to come in and tell you how to live your life."
More like this from vindy.com