Chevy Centre, USHL deal appears close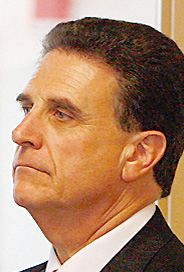 Photo
YOUNGSTOWN — If there is to be hockey next season at the Chevrolet Centre, it will be played by a team from the United States Hockey League, the top junior league in this country.
No deal has been finalized, but the center's management is negotiating with Bruce Zoldan and the USHL for a team to play its home games at the city-owned facility, said Skip Prince, the USHL commissioner.
Zoldan owns the Mahoning Valley Phantoms of the North American Hockey League that played most of its home games at the center this season. The Phantoms, still in the NAHL playoffs, won't return to the center next season.
"The city and [Zoldan] have reached a preliminary understanding and are moving forward," Prince said today.
"Protocol" calls for the announcement of a deal to wait until the Phantoms' season is finished, Zoldan and Prince said. If the Phantoms keep on winning, the team's season could end as late as May 3.
That's probably too long to wait to make an announcement of a final deal, Prince said.
Zoldan said Thursday that he hopes a deal can be finalized and announced in the next five to eight business days.
"I feel comfortable there will be Tier 1 hockey at the Chevrolet Centre next season," Zoldan said.
The center's management also had discussions with an ownership team from the ECHL, a high-level minor league with each team having a National Hockey League affiliation. But that team withdrew its proposal, ECHL Commisioner Brian McKenna said.
For the complete story, read Friday's Vindicator or Vindy.com
More like this from vindy.com