TEA party protesters teed off with government spending
Youngstown TEA Party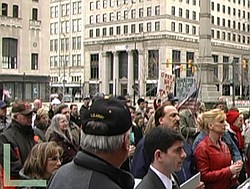 Video
Area residents came together April 15 for a Tax Day TEA Party on Federal Avenue in Youngstown as a protest against taxes and other issues. The Youngstown-area protest was coordinated by the YSU College Republicans.
During a downtown Youngstown TEA party, James Carnahan made it known that the Mahoning Valley will survive if another major industry collapses.
He was one of about 200 people to attend a TEA — an acronym for taxed enough already — party on Central Square.
"When the steel industry was devastated, the industry was gone, but the area survived," Carnahan said, referencing the possible loss or downsizing of General Motors. "The area shrank, but the area survived. You don't want to see it happen, but it's not the end of the world."
Carnahan, 68, of Campbell, expressed his displeasure with the federal government stepping in to help the ailing auto industry, including the removal of then-GM CEO Rick Wagoner. Carnahan said President Barack Obama's imposition on the auto industry is unwarranted and a bailout is unnecessary.
The downtown demonstration — and others like it across the country — was organized to give voice to frustrations with government spending.
Similar demonstrations today saw about 300 people in Warren, 500 in Lisbon, and 200 in Sharon, Pa.
For the complete story, see Thursday's Vindicator and Vindy.com