'Aim High' is life's goal of area's new kennel owner and trainer
A North Carolina woman hopes to give a fresh start to the kennel shut down over animal cruelty last year.
By DON SHILLING
VINDICATOR BUSINESS EDITOR
Aim High K9 Kennel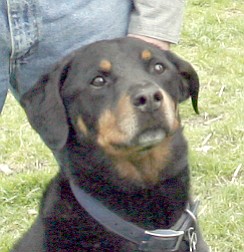 Video
New Boarding and Training Kennel in Youngstown
Aimee Markle is hoping the past doesn't come back to bite her.
The 30-year-old has moved here from North Carolina to open a kennel and dog-training facility at 1516 Coitsville-Hubbard Road, where another kennel was shut down last fall because of animal cruelty charges.
Animal owners were shocked last October when they found seven dead dogs at the kennel and 12 that were starving.
Steve Croley, 38, owner of High Caliber K-9, was convicted in January of four misdemeanor counts of animal cruelty and sentenced to four months in jail and a $1,000 fine. State legislators from the area were so outraged that they introduced bills that would make animal cruelty charges a felony.
Markle is banking on animal owners being grateful that she has opened a new business on the site and hoping they won't be afraid to stop in.
"It has a stigma, but I think you can overreact to that. The place didn't do anything wrong. It was the people," she said.
Her new business is called Aim High K9.
Markle, a native of Albany, N.Y., has a bachelor's degree in business management from Kent State University but always saw herself as a dog trainer. She worked at a kennel to help put herself through college.
She moved from Grafton, Ohio, to North Carolina in 2005 to attend Tarheel Canine Training. After learning how to train dogs, she stayed on for an intensive, one-year internship and then was hired as the school's head obedience trainer.
Janet Dooley, head trainer at Tarheel, said Markle developed good relationships with clients and was able to work with all kinds of dogs.
"She has an ability to adapt to an individual dog, to really get the feel for what will work best with that dog," Dooley said.
When Markle decided it was time to open her own business, she looked north, so she could be closer to her father, who lives in North Canton, and her extended family in Albany.
Last fall, she heard from people at Tarheel that the Youngstown kennel might become available. Before she could arrange a visit, however, the dead and starving dogs hit the news.
She was devastated by the treatment of the animals but she liked the location of Youngstown and knew she couldn't afford to buy a successful kennel.
For advice, she went to her father, Dan Markle, who is a retired supply chain specialist for Goodyear. He was unsettled by the bad publicity the Youngstown kennel had received and wasn't sure how to guide her.
"I told her that it's going to be a real hard road to come back after something like that," he said.
His daughter, who always had dogs growing up, decided to take the plunge and rent the kennel and adjoining house.
In late November, father and daughter started the cleanup.
"It was a disaster," Dan Markle said.
The house, which is owned by a landlord in Virginia, had been vandalized extensively. Water spigots had been left on. Pipes had burst and 2 feet of water was in the basement. All of the carpets needed replaced, words such as "kill" were written on the walls and all of the windows were smashed.
Dan Markle admitted to being worried about his daughter. She was determined to make it work.
By March 1, they had fixed up the house enough so she could move in, and then they started working on the kennel, which has inside and outside cages for 20 dogs.
"I bleached everything," said Aimee Markle, who has four dogs of her own.
They put new wood floors inside and fixed the doors, gates and fencing.
They also turned a former two-car garage into a carpeted, indoor training room.
Aimee Markle is trying to build her business by leaving fliers at the offices of area veterinarians and sending letters to area dog owners.
She is boarding several dogs for a friend who is moving from North Carolina to Kentucky, and she recently received her first paying customer. A person stopped by, liked what they saw and left a Great Dane for two weeks of obedience training.
She charges $500 for the two-week course. A dog stays at the kennel and receives training two or three times a day to learn basic commands, such as "sit," "stay," "down," and how to walk on a leash. Training on how to act off a leash is additional.
Markle charges $12 a night if a customer needs only boarding.
Although she still has to build up a clientele, Markle said she has been encouraged by the people who have stopped by. The visitors often are people who boarded their dogs there in the past and say it used to be a good facility.
"I know it can be a good place again," Markle said.
shilling@vindy.com