Youngstown police shoots 'aggressive' dog 13 times
Dog Shot Multiple Times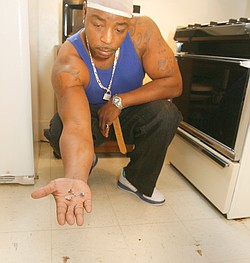 Video
A 7 month old dog was shot multiple times by a Youngstown Police Officer.
YOUNGSTOWN — Curtis Moses said he understands that police officers have a job to do, but he said one Youngstown officer went too far.
Moses' 7-month-old Akita dog, Diva, was fatally shot 13 times April 5 during police pursuit of juveniles who'd been driving down South Side streets and shooting.
But Youngstown's police chief says the situation called for a quick decision to protect police officers.
The driver of the 1998 Pontiac had fled from police, and pulled into a front yard on Lucius Avenue.
There, officers chased the five suspects on foot, a police report states.
One of the five was followed into the East Lucius Avenue home of Moses and Darcel Gilmore. Officers were met inside the house by the couple's 42-pound dog.
The teenager ran down the basement stairs to hide. When officers opened the basement door from the kitchen, "the dog approached Officer [Ryan] Laatsch in an aggressive manner," the police report states.
There were three officers in the house.
"Officer Laatsch, who already had service weapon drawn due to the circumstances of the situation, shot approximately five to six times striking the dog ... then shot the dog approximately five to six more times ...then shot the dog one more time directly in the top of his head from only a few inches away," the report stated.
"I know you have to do your job, but they overdid it," said Moses, who has no relationship to the teenager that ran into the house.
One of the other juveniles was Gilmore's son, but does not live at the East Lucius Avenue residence, Moses said.
For the complete story, see Tuesday's Vindicator and Vindy.com