Racing Modifications/Drivers road test new surface at Sharon Speedway
By Bob Jackson
First Practice at Sharon Speedway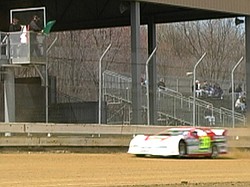 Video
Sharon Speedway hosted an open practice for all divisions of racing free for fans on Saturday, April 11. It was the first time racers had been on the track since it received a new 18" of surface. There will be another open practice April 18. The season officially begins May 2.
The economy dictated another change at the course: Instead of five divisions racing each weekend, there will be only four.
When the 2009 racing season opens at Sharon Speedway in Hartford, fans and drivers will notice changes to both the driving surface and the racing lineup.
A new surface was put down on in October, blending clay with the dirt track, track spokeswoman Marcie Barlow said.
"Clay holds more moisture, so we're hoping that it will help the track hold together better," Barlow said. "So far the drivers seem to like it."
She said the official racing season won't open until May 2, but drivers were on the track Saturday for the first of two open practice sessions. Another practice session will be this Saturday.
Drivers from a variety of racing classes came from all over to get their cars on the track and test them out before their seasons begin.
"Right now, it looks better," veteran driver Mike Kekich said of the new track. "Last year they had problems with it chunking up and coming apart. The ruts were terrible."
Kekich, 47, of Hermitage, Pa., was at the track to watch the debut of his 15-year-old son, Adam, who was behind the wheel of a limited sprint car for the very first time.
"My nerves were all over the place out there," Adam said after his first practice run. "But it was a blast."
Adam, a sophomore at Hickory High School and a member of its drum line, said he's spent his entire life at race tracks watching his dad, grandfather and uncles drive. He has raced go-karts for the past several years, so entering the sprint series is a natural progression for him.
"It's a whole family deal," Mike said.
"I hope someday my dad and I will be able to race against each other," Adam said. "I think that would be really cool."
And who would win, should that head-to-head race ever come to pass?
"I don't know," the fledging driver said with a smile. "I guess we'll have to see."
Mike Kekich, who drives a 410 Sprint, said he was pleased with Adam's first turn on the track among the big boys.
"He brought it back [intact]," Mike said, laughing. "I told him he wasn't here to impress anybody, just to get the feel for the car."
Also making his big-track debut Saturday was 16-year-old Josh Double of Bristolville.
Like Adam, Double has spent several years on the local go-kart circuit and is taking a step up to bigger, faster cars this year. He'll race a Fast Tack Late Model, which Barlow said will run twice at Sharon Speedway this season – once in May and again in September.
"I'm excited, but I'm really nervous," Double said before getting his car onto the track for his first practice run. "Today, I just want to get as much seat time in as I can and get the feel for the car."
Barlow said track owners made a change this year in the lineup of races that will be held each week. In the past, fans got to see races in five racing divisions every Saturday night. This year, that will be cut down to four.
The E-Modifieds, Pro Stocks and Limited Sprint cars will race every week, while the Big Block Modifieds and 410 Sprints will each race only every two weeks, each one on alternating weeks.
"It's simply because of the economy," Barlow said. "They are two of the most expensive divisions, for both the track and the competitors."
She said some of the drivers initially were unhappy with the change, but have begun to come around because having every other weekend off will give them time to do other things with their families.