To anglers, trout represent pot of gold
Mill Creek MetroParks stock Lake Glacier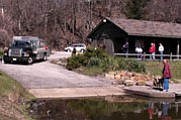 Video
Rainbow Trout Release at Lake Glacier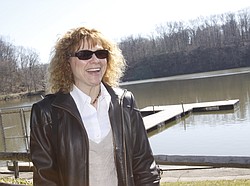 Gallery
By Elise Franco
Fishermen lined the edge of Lake Glacier to be one of the first to catch a rainbow trout.
YOUNGSTOWN — The trout have taken over.
Fishing season officially opened March 1, but a truckload of rainbow trout arrived at Lake Glacier in Mill Creek MetroParks on Thursday morning as hordes of eager observers looked on.
Linda Kostka, parks development and marketing director, said the Ohio Department of Natural Resources has been donating the fish annually for at least 10 years.
"This event draws a pretty big crowd," she said. "It's a big deal."
Between now and May 2, ODNR will stock about 20 lakes all over Ohio. Since March 13, about 25 lakes have been stocked with rainbow trout.
Kostka said ODNR was originally supposed to donate 2,500 trout to Lake Glacier, worth about $6,000, but ended up dumping 3,466 fish into the lake.
She said moving the trout from the truck to the water is a quick process.
"The trout come down a big pipe, and they'll be stunned for a few seconds once they hit the water before they swim away," she said. "You turn a valve, and out they go. It takes about 30 seconds."
Aaron Means, 28, of Youngstown, and his 5-year-old son, also named Aaron, picked out a front-row seat at the edge of the lake.
"I've been coming here for four years for this," Means said.
"I like to be able to bring my son because the best time for him to catch something is when they're first released."
Kirk Northcott, 52, of Hubbard, said he and three co-workers have taken the day off work for at least six years to attend the annual trout release.
"It's relaxing and a lot of fun," he said. "It's really nice that they do this down here."
Also fishing with Northcott was Jim Maiorca, 31, of Hubbard. He said weather is not a deterrent when it comes to the trout release at the lake.
"It's a beautiful day out today," he said. "But we've been down here before in the rain and when it was snowing."
Julius Poole, 41, of Coitsville, chimed in, saying: "Real fishermen don't care about the weather."
Maiorca said it's become somewhat of a tradition that the four men plan to continue.
"We take this day off every year, go to breakfast together, then come down here," he said.
efranco@vindy.com