---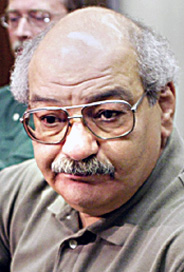 Photo
Warren police chief John Mandopolous
By Ed Runyan
'The bottom line is they needed to get him out of there,' one community leader said.
WARREN — Police Chief John Mandopoulos gave his former supervisors in city hall enough aggravation over the years to warrant a thick personnel file full of disciplinary action.
But when it came time to end his eight-year tenure as the city's top cop, he stepped aside in a most cooperative manner, Safety-Service Director Doug Franklin said during a press conference to announce Mandopoulos' retirement.
"I will say he was cooperative with this process, which is what's important right now, and the chief always maintained he always wanted to do what was best for the city," Franklin said Thursday.
Mandopoulos, who has been off since last Friday, won't be coming back to work again, according to the agreement, which was released to news media.
Franklin, Mayor Michael O'Brien, Law Director Greg Hicks and Danny Thomas, Mandopoulos' attorney, answered questions Thursday about the agreement that Mandopoulos, 61, signed Wednesday, ending his 36 years with the department.
Mandopoulos will get his full pay through Aug. 10 while on sick leave. That amounts to about $29,200 in salary. He will not receive unemployment compensation but will be entitled to the pay that is owed to him for vacation, sick and other accumulated time, Hicks said. That figure is $118,321. He had 960 sick hours, 840 vacation hours, and 1,117 hours of compensation time. He earns $40.56 per hour.
The city also will not object to any application Mandopoulos makes to the Ohio Police and Fire Pension Fund for disability retirement, the agreement says.
Franklin, O'Brien and Hicks refused to comment on whether Mandopoulos was forced to resign or retire, as the former chief has said.
Thomas said Mandopoulos showed his concern for the city and the police department in the deal worked out for him to receive his sick and vacation pay. Mandopoulos insisted that it be paid in three equal installments — one in May, one in September 2010 and one in September 2011.
Without spreading the payments out, Thomas said, Mandopoulos feared it could lead to as many as two additional layoffs in the department.
Thomas said Mandopoulos had a tough time deciding whether to walk away quietly or challenge the city's decision to discipline him.
"All of you know, when there's litigation, somebody's going to get hurt — whether it's the city or John," Thomas said. "It's going to be long and protracted, and there's going to be no [quick] resolution."
Franklin said Mandopoulos told him Wednesday that he felt it was important to "remove this issue from the city's agenda" so it could move forward.
Franklin and O'Brien said they met with the two captains in the police department who would be eligible to take the civil service exam to replace Mandopoulos — Tim Bowers and Tim Roberts.
Bowers has served as acting chief since Friday.
The department's third captain, Janice Gilmore, would not be eligible to take the test because she doesn't have enough time as captain to qualify, Hicks said. She was promoted to captain in July.
Bowers said Thursday he is interested in the position. Roberts has told Franklin he is undecided, Franklin said.
If both men desire to take the test, one of them would become chief, Franklin said. If one or both are not interested, lieutenants would be allowed to compete for the job as well, Hicks added.
Meanwhile, Thomas Conley, director and CEO of the Greater Warren-Youngstown Area Urban League, said Mandopoulos' departure as chief is "long overdue."
Conley, of Liberty, whose efforts encouraged the U.S. Justice Department to investigate and order changes to the way the Warren Police Department conducts strip- and cavity-searches and uses force against citizens, said Mandopoulos' time as chief caused unnecessary drama in the department.
"The leadership in the police department has to really focus on the real challenges they are going through right now to make that department work as a team," he said.
Conley said the layoff of 20 officers Jan. 1 and the possibility that 20 more could lose their jobs by the summer makes it especially important that the department have strong leadership at the top.
Conley said the Justice Department has not closed its investigation of the department despite releasing its recommendations for improvement in March 2006 because it still is not satisfied with the department's operations.
"The bottom line is they [city officials] needed to get him out of there," Conley said of Mandopoulos.
Larry Dueber of Estabrook Avenue Northwest, who attends numerous meetings of city council and its committees, said he thinks the department needed change.
"I think there were too many distractions, especially with the layoff of the officers," he said. "To me the chief was creating a distraction. To me, it's in the best interests of the city that we have a new chief."
The incident that sparked Mandopoulos' most recent disciplinary action was his decision to have Gary Cicero, the city's human resources director, searched when Cicero entered the police department building in November for a prearranged meeting regarding layoffs.
Mandopoulos also was disciplined last year for the way he treated Councilman Dan Crouse for Crouse's remarks about elimination of most overtime in the police department.
CAREER HIGHLIGHTS
Events in the career of former Warren Police Chief John Mandopoulos:
1973: Hired as a city police officer.
1975: Acting Police Chief Edward Boker suspends Mandopoulos for three days for insubordination for refusing to return to work to correct a police report.
1977: Safety-Service Director Robert L. Dawson issues Mandopoulos, president of the Fraternal Order of Police, a three-day suspension over his outburst against Mayor Arthur J. Richards during a meeting to discuss manpower.
Various dates: Mandopoulos was commended dozens of times for exemplary attendance.
December 2000: Named Warren police chief.
2002: Mayor Hank Angelo puts a letter in Mandopoulos' personnel file saying the chief had not complied with the procedures of the department's Citizen Complaint Process because he had not responded to several complaints. The letter also accused the chief of not requiring employees to clock in and out correctly.
2003: Angelo reprimands Mandopoulos for failing to properly manage one of his officers, Manny Nites, during an incident at Club 77 Soul, a tavern on Youngstown Road, in which Nites made remarks on tape that used a derogatory term for blacks.
February 2006: Safety-Service Director Doug Franklin ordered Mandopoulos to be courteous to city council members after the chief had a run-in with Councilman Al Novak, who said Mandopoulos was disruptive at a council finance committee meeting.
March 2006: U.S. Justice Department recommends the department establish a policy on use of deadly force and provide more training to officers on the use of strip searches and body-cavity searches.
October 2008: Mandopoulos chooses to apologize to Councilman Dan Crouse rather than face a 30-day suspension without pay for remarks he made to the councilman regarding the elimination of police department overtime.
November 2008: Mandopoulos orders that Gary Cicero, Warren human resources director, be searched at the entrance to the police department and interferes with Cicero's ability to enter the office of Capt. Tim Bowers for a meeting.
Early 2009: Cicero files a complaint, and Franklin writes a letter charging Mandopoulos administratively for his actions toward Cicero.
runyan@vindy.com