Harding uses depth in sprints to win Cope title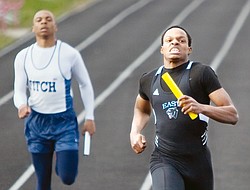 Photo
East High School's Alex Pettway mantains his determination as he crosses the finish line finishing first in the 4 x 200m relay during the Cope Invitational at Reilly Stadium in Salem on Thursday evening.
SALEM — It was best of times and the worst of times for the Warren Harding boys track team on Thursday.
First, the worst: Joseph Threats had the flu, Mitchell Seawood suffered a leg injury and the 4x200 relay team dropped the baton.
OK, now for the best: A team title and a meet record.
The Raiders used their depth in the sprinting and jumping events to overcome adversity and chilly weather en route to the team championship at the F.E. Cope Boys Invitational at Reilly Stadium.
Harding scored 108.5 points to outdistance runner-up Massillon Perry (77.5) and third-place Midpark (76.3). Austintown Fitch (58) and Salem (57) rounded out the top five teams.
"With everything that happened today, we're happy to have won the meet," said Harding coach Charles Penny. "We're still evaluating how a couple of kids are feeling and how that turns out will dictate how this meet went for us.
"We do have some depth and so whoever is running, we don't change our expectations. If you put all your eggs into one basket, then you don't have a program. We've worked hard to get where we're at and we're hoping to get to the next level."
Marvin Logan led the way for Harding by taking running event MVP honors after winning the 300-meter hurdles, finishing second in the 110 hurdles and running on the Raiders' third-place 4x400 relay. He scored 19.5 points.
"I thought we were prepared," he said. "We had some slip ups, but we're still moving in the right direction. When you set the bar as high as we do, our best isn't enough until we get a ring. We can win every invitational we run in, but we won't be satisfied until we win a state title."
Logan had plenty of help on Thursday. Seawood won the 110 hurdles and took sixth in the 300s. Deaver Williamson won the 200 meters, Carlton Wilson and Andre Bennett placed second and fifth in the 100 and Marteze Roper won the 800.
The 4x100 relay squad of Williamson, Threats, Jarralle Butts and Aunre Davis easily won the event in a meet record time of 43.10.
That victory is just the beginning of what is yet to come, as the quartet will travel to Philadelphia April 24-25 to compete in the prestigious Penn Relays.
"It will be a once-in-a-lifetime opportunity for the kids," said Penny. "They'll be running in front of 65,000 people against teams from all over. They are excited to represent our community, and maybe if we get to the finals, we'll be on ESPN for everyone to see."
In the field events, Daniel Golden and Davis finished second and fifth in the high jump, while teammates Butts and Desmond Reed took third and fifth in the long jump for the Raiders.
Poland's Robert Balzano had another banner, winning the 400 and anchoring the Bulldogs' victorious 4x200 and 4x400 relay teams.
Other local individual winners were Salem's Dustin Matak (100), Howland's Mike Mangiarelli (long jump) and East Palestine's Shane Peterson (high jump).
Peterson was the field event MVP with 15 points, adding a fourth-place finish in the long jump to his high jump victory.