By Todd Franko
Scott Burin Cleans Up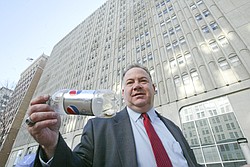 Gallery
Scott Burin, owner of the International Towers building in downtown Youngstown, Oh. goes through his daily ritual of picking up litter from his property.
Scott Burin Cleans Up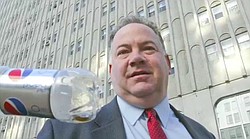 Video
Scott Burin, International Towers owner, cleans up.
Scott Burin remembers the good ol' days.
For many, that means harkening back to an era of great neighborhoods, penny candy and the first talkie movies.
For Burin, this conjures movies of Depression-era shop owners sweeping sidewalks in front of their buildings.
"That was every shop owner up and down Federal Street. So I know that what I am doing has been done before," Burin said.
I saw what he does. One day, looking out the window while having lunch at Cafe Cimmento, I saw Burin scurrying around his property, International Towers in downtown Youngstown, picking up garbage.
The high-rise that sits on the southeast corner of Federal Plaza is managed and co-owned by Burin. Though it's hardly the simple storefront from property owners of yesteryear he so admires, Burin tackles it with the same pride.
Every morning he makes a lap around his building picking up trash. I hung out with him for a lap last week.
His lap is a complete city block and includes a city parking lot and landscaping.
In these days of Haz-Mat suits, dust masks and plastic gloves, Burin is a throwback — just a broom and pan, no gloves, and the same suit, shoes and tie he wears to a meeting.
He's in the street, he's in the bus shelter, he's in the bushes, he's everywhere.
"It's the way I was raised," said Burin. "Litter's been with us since the time of Christ. What we need are more people to pick up."
It's a discipline that started as a child when Burin grew tired of listening to his dad yell at his messy brother. So he decided to clean up after his brother.
"We were raised to be orderly," said Mark Burin — aka "the brother."
Mark vaguely remembers Scott cleaning up after him, but admits, "Scott's always had a great memory. If he said it; it's likely how it happened. He was the orderly one."
Orderliness followed Scott in 1972 to his job cleaning Cedar Point amusement park. Later, he landed a restaurant job where the rule was "If you can lean, you can clean."
With his daughters, he helped with various Girl Scouts cleanups. He adopted Hopkins Road in Boardman for years.
And it's him today — at work, at home and in his neighborhood. He said his wife loves it when he cleans the bathroom because she knows a one-hour, floor-to-ceiling effort is afoot.
In his Boardman neighborhood, there are some foreclosed homes. He was cleaning up around one of the houses when a neighbor asked why he was doing it.
"The bank's supposed to do it," Burin said the guy told him. "I said, 'Really?' — gesturing around me at the mess."
He worked a deal with one neighbor to split the grass-cutting of a foreclosed house. Another time, when a fence blew down, he fixed it.
What Burin does is not something he forces on others.
"Going over [to someone] and telling them, 'Hey — why don't you do what I do? What's a matter with you?' That will just push them away."
Burin instead likes to lead by example.
He's even developed his own talking points: Draw awareness; build interest; create desire; get action.
He's a neighbor to the much-celebrated upscale high-rise renovation at Realty Tower, owned by developer Lou Frangos.
Burin said he met Frangos while making his daily cleanup lap. Frangos was intrigued, Burin said, and promised that his crews would do the same. Burin said it didn't happen immediately, but it did happen.
Others on the block have followed Burin's lead, said staffers at First Place Bank, which is in the ground floor of International Towers. Their window overlooks Federal Plaza, and they see others on their block tending to their storefronts — such as the convenience store across the street and the neighboring banks.
International Towers opened in 1980 under the vision of Scott's father, Andrew. It is now what it always has been: federally subsidized low-income housing for elderly and disabled citizens.
Scott's been part of the business all along, taking an active role in the late '80s, then a full-time role in the '90s after his father's death.
He's seen downtown for years, and he sees now as the time for all of it to come together.
"We have the right mayor. We have the right president. Times are tough, but we just need to take it one day at a time. Be patient," he said.
Patience.
It's a word contradictory with Burin's intensity and drive. That he cleans his property daily is due to dissatisfaction with the guys he hired to do it.
"I can do it the way I know it has to be done."
Burin was a force even when I first met him. After that lunch I noted, I walked over, extended my hand, and asked with a little smirk, "Who are you?"
He didn't really smirk back.
He didn't at all answer my question.
He looked at me and replied, "Well, who are you?"
With his tone and indifference, he might as well have said "the hell" between "who" and "are."
Then I think he shook my hand.
And that's where the outer Burin masks the inner Burin.
He's proud of his baseball career that took him to the University of Miami. But when he points to a baseball newspaper clipping on his wall, he touts not his stats and such, but what his coach said about him.
"Coach Blanchard said it right here," said Burin, pointing to paragraph that talks about Burin's off-field leadership skills, including tutoring in high school.
The Liberty High School graduate and Boardman resident comes off as if he could head any institution that is his downtown neighbor — the banks, the chamber, the economic development group; heck — even Youngstown State University. He could easily do the Frangos project, I think.
Yet, he leads a single, low- income facility serving 182 people.
His day is a list of tasks that are hardly those of bankers or developers or chamber guys: a resident's drinking problem, another's missed medications, loud music in the apartment above an elderly lady, one resident is owed money from another from a Super Bowl bet, and on and on ...
I asked, "Why?"
He looked at me the same way he did after lunch that day — a look of indifference; of "what the hell are you talking about?"
"Yeah — I could go build condos and all that. But for what ...?" he said — his arms and hands thrusting outward, his face crunching together.
"Our profit is people. And in reaching people, there's joy in my heart."