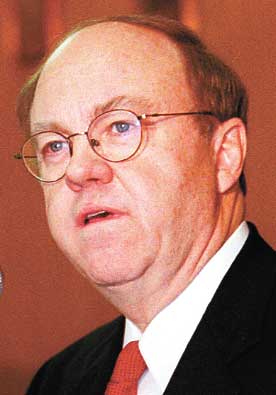 Photo
YSU President David C. Sweet
By HAROLD GWIN
VINDICATOR EDUCATION WRITER
YOUNGSTOWN — Scott R. Schulick, Youngstown State University Board of Trustees chairman, has sent university President David C. Sweet a letter making it clear the president's job there will end on June 30, 2010.
The board of trustees told Sweet that it isn't interested in renegotiating any terms of his current contract, which ends on that date.
Schulick's letter was dated Wednesday. He wrote that the board's executive committee met twice (with only one trustee not in attendance) to discuss suggestions to alter the contract as proposed by Atty. John F. Burns, representing Sweet.
"Following these discussions it is clear, and you are so advised, that the Trustees' position regarding your employment contract remains unchanged. That is, there will be no modifications or side-arrangements to the terms of your employment and/or employment agreement prior to (or after) their conclusion on June 30, 2010," the letter said.
Efforts to reach Sweet and Burns for comment were unsuccessful.
Schulick's letter said the trustees "acknowledge with appreciation" the accomplishments at YSU achieved under Sweet's leadership since he came to the university in mid-2000.
It also said the trustees look forward to continuing to work with Sweet over the next 15 months and celebrating those accomplishments and his service to the university.
"This is an internal matter between the board and the president," Schulick told The Vindicator, declining to be specific about what proposals Sweet had made to change his contract.
The president didn't ask for a contract extension and has told the trustees that he will fulfill the terms of his contract, Schulick said.
Documents related to the issue indicate that Sweet is seeking some way to improve his pension under the State Teachers Retirement System of Ohio by increasing his salary.
He came to YSU in July 2000 at a base salary of $185,000 and was given a seven-year contract that included separate car and housing allowances that, at the time, raised his total compensation to $228,000.
The trustees gave him an early contract renewal in 2004, raising his base salary to $209,626, providing for annual salary increases between 2 and 4 percent and then gradually rolling his annual $52,615 housing and $7,938 car allowances into his base salary.
The net effect of increasing his base salary would be an improvement in his pension at the time of retirement.
However, STRS nixed the plan, ruling that the allowances can't be made a part of Sweet's salary for calculating his retirement pension.
The ruling was appealed to STRS, but the agency remained firm, leaving Sweet to seek other ways to improve his salary.
The trustees, however, have made it clear they aren't interested.
Sweet, whose current salary and allowances total around $300,000 a year, was awarded high marks by the trustees in a November evaluation of his job performance.
"The board is pleased with the progress on the main goals identified by the president for 2007-08," Schulick said at the time, characterizing it as an "absolutely" positive rating from the board.
PRESIDENT'S TENURE
David C. Sweet
2000: Sweet named as successor to Leslie Cochran as president of YSU.
2004: Sweet set a student enrollment goal of 14,000 for YSU's centennial in 2008. Enrollment reached 13,712.
2005: Led the drive to raise $12.1 million to build the Andrews Student Recreation and Wellness Center.
2005: University hit by strikes by both faculty and Association of Classified Employees unions, marking a low point in labor relations.
2005: Sweet created a labor relations panel that came up with recommendations for improving the labor climate.
2006: Sweet unveiled a campus master plan calling for a new Williamson College of Business Administration building, improved campus gateways, revamping of Coffelt Hall and more.
2007-09: Sweet led a Centennial Capital Campaign with a goal of $43 million. The campaign has reached about $49 million and continues to run.
2007-08: YSU's colleges of engineering and technology and arts and sciences restructured as the College of Science, Technology, Engineering and Mathematics and the College of Liberal Arts and Social Sciences.
2008: Sweet led the campaign to raise $16 million in private funds as part of the Centennial Campaign to help build the new Williamson facility.
2009: YSU lowered the out-of-state tuition rate for Western Pennsylvania students to encourage enrollment at the university.
2009: Restoration of the Wick-Pollock Inn moved up on the campus master plan to preserve the historic structure, an ongoing Sweet goal.
Source: Vindicator files
gwin@vindy.com