Woman in Dann case now lectures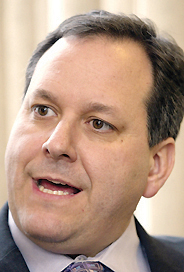 Photo
Former Ohio Attorney General Marc Dann


Photo


Photo
COLUMBUS (AP) — One of the women central to a sexual harassment scandal that brought down former Ohio Attorney General Marc Dann has parlayed her experience into a speaking career.
Cindy Stankoski, who won a $247,500 settlement from the state in February for her treatment by a Dann aide, is now charging between $1,500 and $5,000 for her lecturing services, according to her Web site.
She offers to speak about such topics as abuse, conflict resolution, sexuality and sexual health, empowerment, human resources, women in business and society, ethics, integrity, careers and listening skills.
As part of the state settlement, Stankoski agreed to give up her job with the state. She had worked as a telecommunications assistant at Dann's office, in a department led by Dann's friend and sometime roommate, Anthony Gutierrez.
Stankoski and co-worker Vanessa Stout accused Gutierrez of engaging in vulgar and explicit sexual talk during social outings, leering at women in the office and intimidating them with stories of his alleged connections to the Mafia.
On her speaker Web site, Stankoski touts being named 2008 Person of the Year by Columbus Monthly magazine "for exposing the culture of corruption in the Ohio Attorney General's office." The magazine gave the honor to both Stankoski and Stout and pictured them on its January cover.
State Inspector General Tom Charles found Gutierrez had violated an office policy against sexual harassment in the Stankoski case, but he never weighed in on the validity of the harassment allegations themselves. Columbus police determined there wasn't enough evidence to pursue criminal charges.
In a January letter of complaint sent to a state legislative panel poised to approve Stankoski's settlement payment, Columbus attorney Joe Sommer characterized the amount as "ridiculous and outrageous."
Sommer, a state workers' compensation lawyer, noted details of Charles' investigation that suggested Stankoski dressed provocatively and acted unprofessionally.
One such finding involved Stankoski posing for risque photos on a co-worker's cell phone while she "flirtatiously sported Gutierrez's Attorney General-issued badge at her bosom," according to the report.
"In my almost 27 years in state government, I have never heard of a state employee possessing his or her boss's ID. Stankoski not only had it but seemed to be showing it off like a trophy to coworkers," Sommer wrote.
Under the Web site heading "What I do best," Stankoski writes, "Addressing individuals and organizations about how women can avoid situations where they can be sexually harassed or abused and promote my assistance to women that find themselves in abusive situations."
She told investigators she was afraid of Gutierrez and sometimes got into compromising situations as a result.
Stankoski's site also says she has founded a nonprofit called C.S.M.A.S.H. — or Cindy Stankoski's Message Against Sexual Harassment.
A message left seeking comment at the number listed on the nonprofit's Web site was not immediately returned.
Dann, a Democrat, was forced out in May in a push led by Gov. Ted Strickland. Richard Cordray, Dann's successor, settled the harassment case after taking office in January.