For the 838th, it's a reunion like no other
838th Homecoming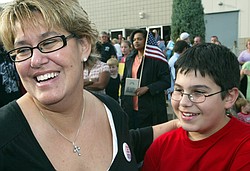 Gallery
838th Homecoming Sept. 25, 2008
By KATIE SEMINARA
Air horns, hugs and U.S. flags welcomed the 838th Military Police Co. home from Afghanistan.
BOARDMAN — Pvt. John McHenry's 22nd birthday present was coming home from Afghanistan.
"We are taking him out to The Fifth Season restaurant," said McHenry's mom, Angie Pastello, of Boardman.
The family is splurging on a more expensive dinner for his birthday and homecoming, she said.
838th Homecoming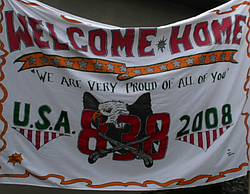 Video
Video by William D. Lewis and Katie Libecco Edited by Katie Libecco
Angie and her younger son, Michael Pastello, 11, waited for McHenry in a crowd of about 1,000 anxious family members and friends awaiting the arrival of their loved ones.
The 162 men and women of the Ohio Army National Guard's 838th Military Police Co. had been on a mission in Afghanistan for a year, and were reunited with the sense of home at Trinity Fellowship Church here Thursday.
"The worst part is not having the closeness," said Angie of the time away from McHenry. "And not knowing if he's alive or not."
Sometimes the Internet doesn't work and, as a mom, you worry about your son, Angie said.
The worrying was over for those waiting with flags, signs, air horns and smiles.
Amid the sea of red, white and blue was a blanket with SpongeBob SquarePants place mats and balloons.
"This will either embarrass him or catch his attention," said John Helderman, 21, of the SpongeBob display he set up to welcome home his brother Patrick, 24.
"It's an inside joke," said Helderman, of Medina.
The 838th Family Readiness Group was the reason such a large homecoming was possible.
"We really do feel like a family," said Sherry Carnahan of Akron, who heads the group.
Sherry and her husband, James, were waiting for their daughter, 1st Lt. Kelly Coughenour, and were taking pictures to send to all the families after the homecoming.
"This is too awesome; I can't get enough pictures," said James after the three buses unloaded and the reuniting began.
The sea of red, white and blue blended with the sea of army green and khaki when the soldiers arrived after a nine-hour ride.
Angie and Michael were gently pushing through the masses searching for McHenry, while trying not to lose each other in the process.
"I can't find him. There's too many of them," Angie said almost frantically as the anticipation of seeing her son was shown by her body bouncing up and down.
Finally — an embrace through tears.
"I'm going to relax and unpack," said McHenry after hugging Angie and Michael.
But relaxing may be put on hold, because Michael had other plans for McHenry.
"I'm trying to beat him at almost everything," said Michael of what he wants to do now that McHenry is home.
A basketball game was in the works, and Michael said he had been practicing while McHenry was away.
"I'm not that rusty," said McHenry, laughing.
For Sgt. Michael Hunchuck of Boardman, being home meant three things: spending time with 4-year-old son Dylan Fletcher-Hunchuck, going golfing, and drinking Coors Light out of a bottle.
Every day for the past few weeks, Dylan talked about Michael coming home, said Dylan's mom, Marsha Fletcher of Columbiana.
"At 4 they get it, but they don't," said Fletcher. "It's been a long year."
"Daddy's coming home to see me," said Dylan.
And Dylan's was one of the many smiling faces when Michael picked him up into his arms.