Rock the Vote bus visits Valley
Rock the Vote at Boardman High School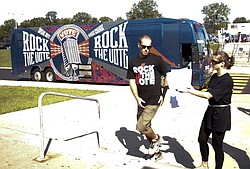 Gallery
By Denise Dick
The bus campaign is traveling the country, registering young people to vote.
BOARDMAN — The economy, gas prices and the availability of jobs concern Kristine Bevan, who will vote for the first time this November.
Bevan, 18, registered to vote Tuesday when the Rock the Vote Voter Registration Campaign stopped at Boardman High School.
"Now that I'm 18, I feel like it's my responsibility," the senior said.
From what she's seen watching the campaign and the media's coverage of it, she plans to vote for U.S. Sen. John McCain. She just gets a better feeling from the Arizona Republican and how he'll address the issues. McCain faces U.S. Sen. Barack Obama, the Democratic Party candidate from Illinois.
Jermaine Martin, 18, isn't saying who he's voting for in November. He registered at the Rock the Vote stop, too.
"I figured since I was 18, it's my responsibility as a citizen," he said. "I want to be a part of democracy."
With troubles on Wall Street and government bailouts, Martin wants a president who can address the problems in the economy so that when he enters the job market, he'll be able to secure and keep a good job.
The Rock the Vote bus tour took off Sept. 13 and has registered 90,000 young people, either in person or through its Web site, said Kim Rogers, political director.
The campaign targets people 18 to 29 who are traditionally overlooked by the media and candidate campaigns. Research has shown that people in that age group are likely to vote if registered, she said.
Anyone who wants to register through Rock the Vote may do so through the Web site www.rockthevote.com.
Neither Katie Fiffick, 18, nor Megan Ramsey, 17, both first-time voters, have decided for whom they will vote this November.
They're still gathering information, they said.
Neither listed an issue of particular concern, although both plan to go to the polls.
"I'll probably listen to what my parents say," said Megan, who will turn 18 before the election.
At 16, Brandon Pasvanis is too young to vote, but the BHS junior knows who'd get his vote if he could cast a ballot.
"Obama," he said. "I'm ready for change, and I'm more liberal in my views than I am conservative like the Republicans."